told in stories & pictures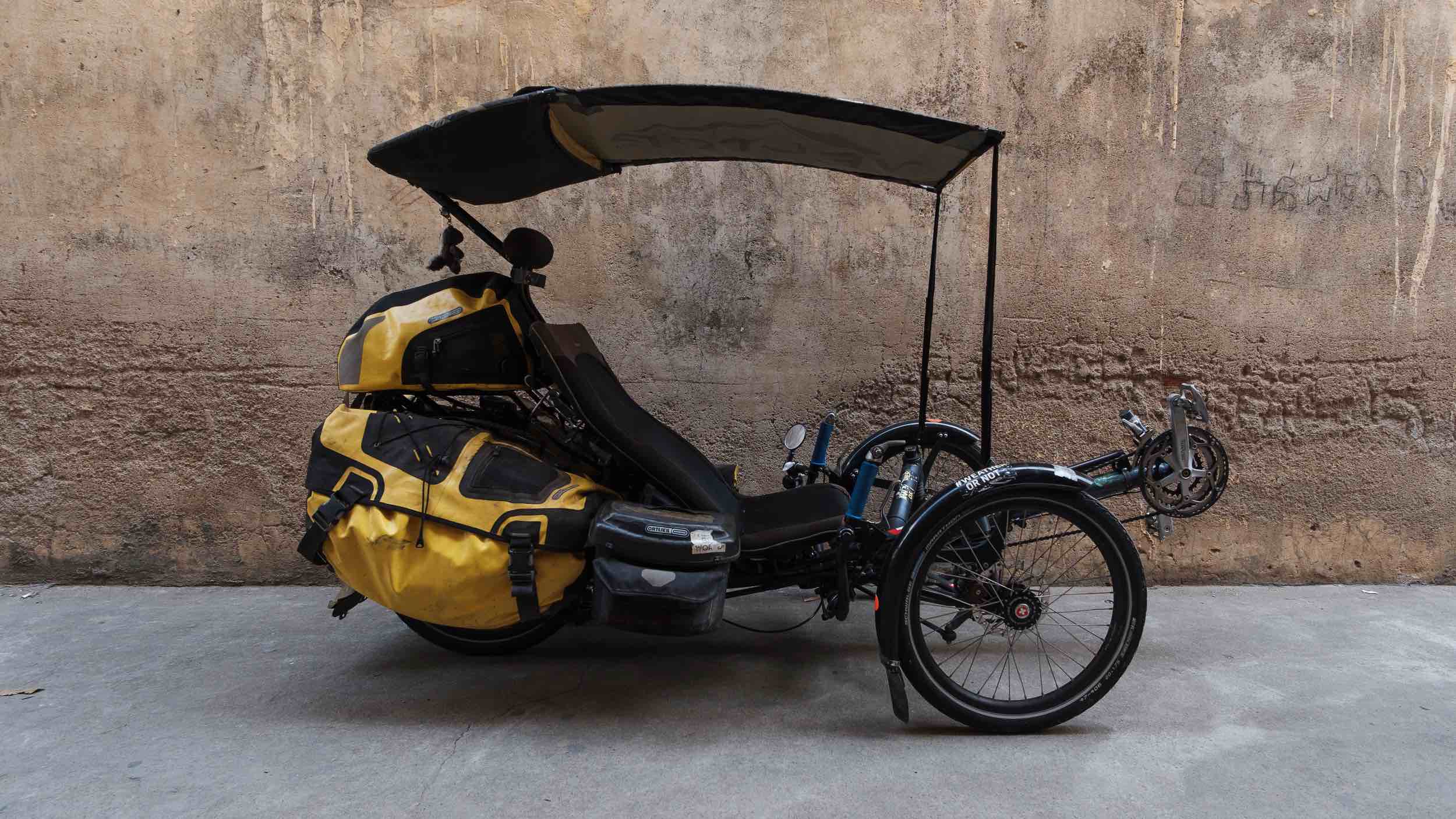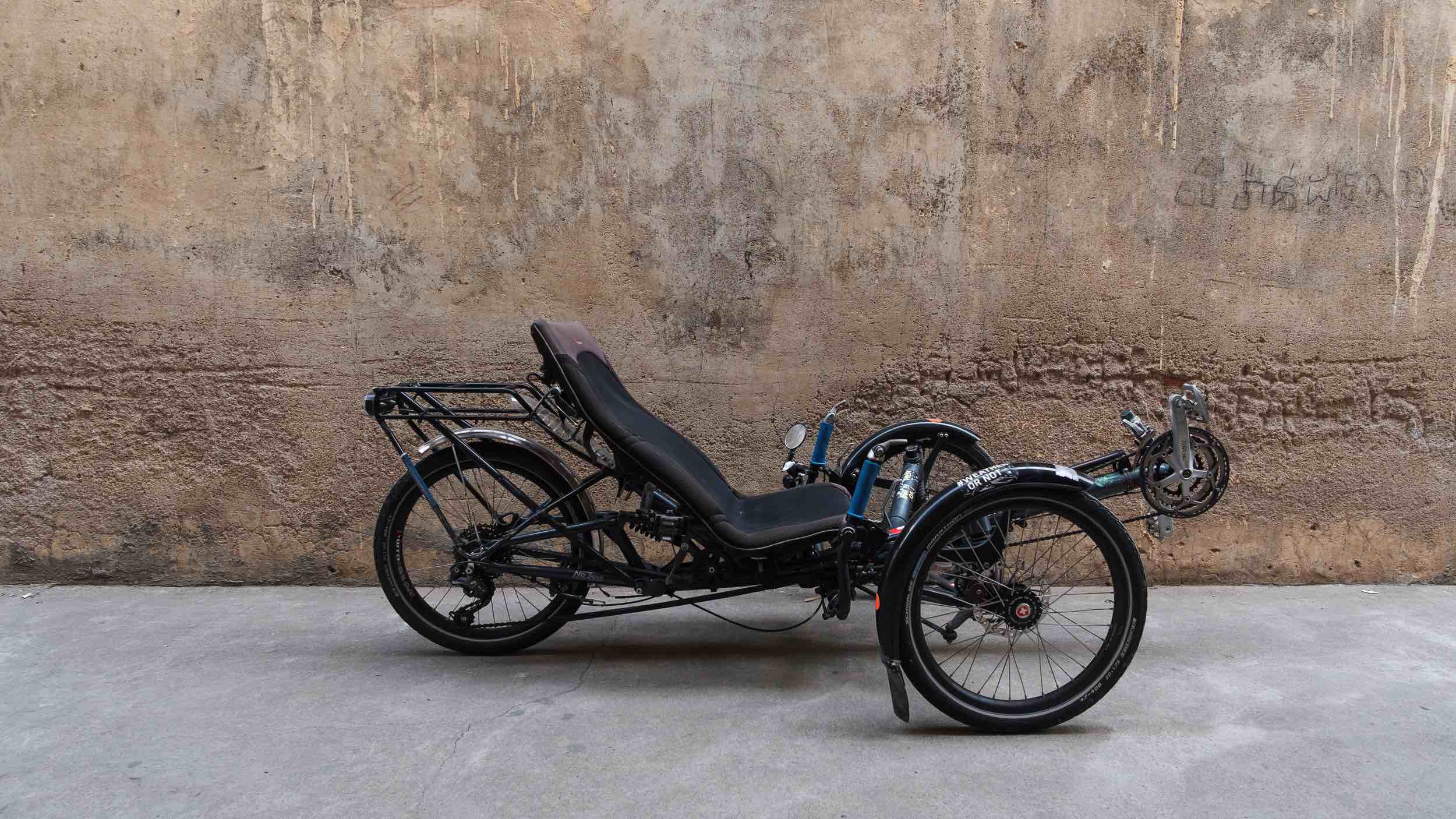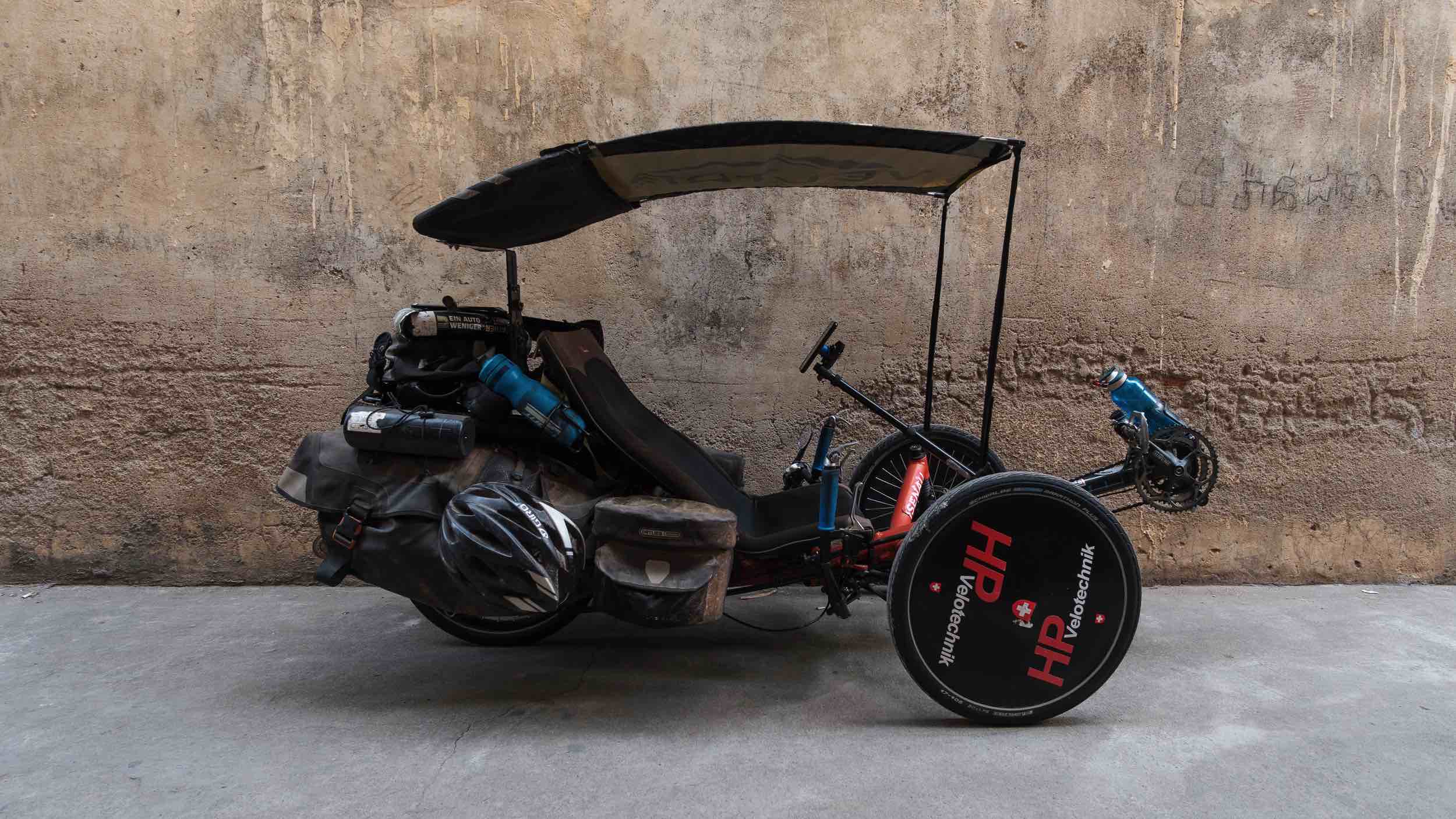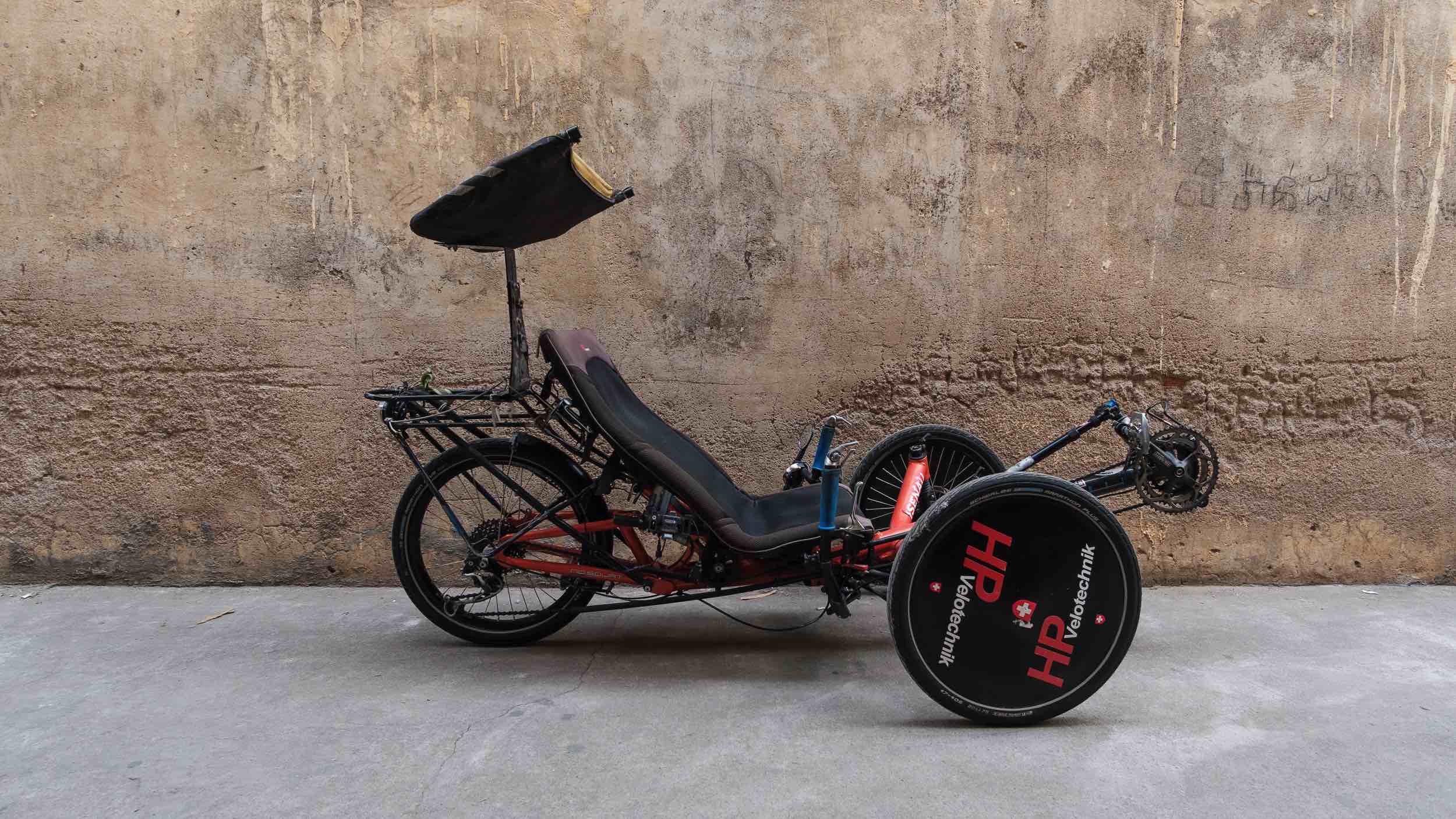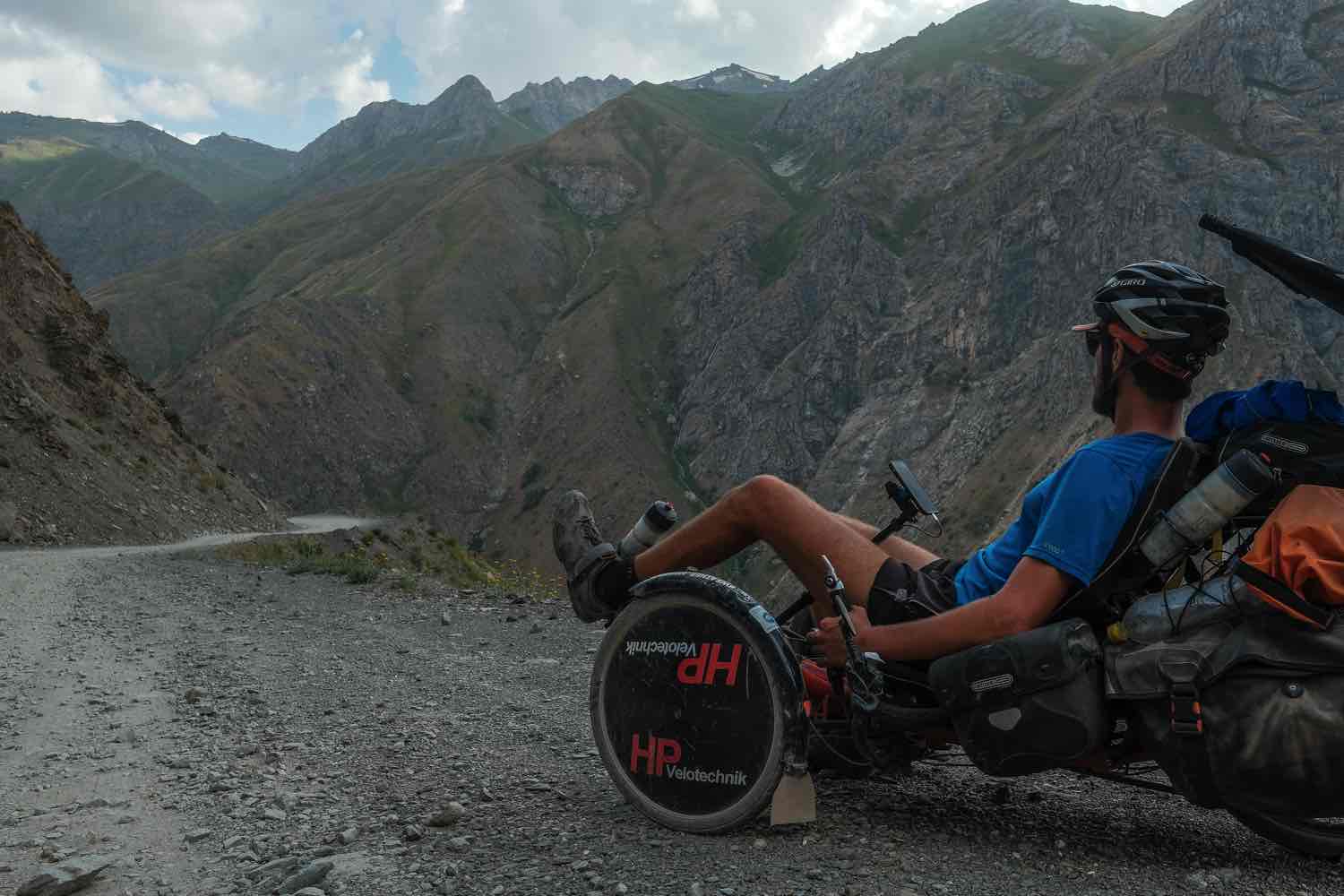 Finally, this climb is behind us ! We're going to jump us in this descent of several kilometers.
The helmet is on the head, hands over command, can release the brakes.
For an engine without engine, the sensation of speed is insane, adrenaline rises in line with the speed.
Left turn, straight line, attention, a pin to the right ! Fortunately we became good drivers in a few months ... The slightest misstep would lead us down the cliff but 3 trike wheels offer us a disconcerting stability.
The descent is over ? You can stop a moment then breathe, staying comfortably sitting on the trike, obviously !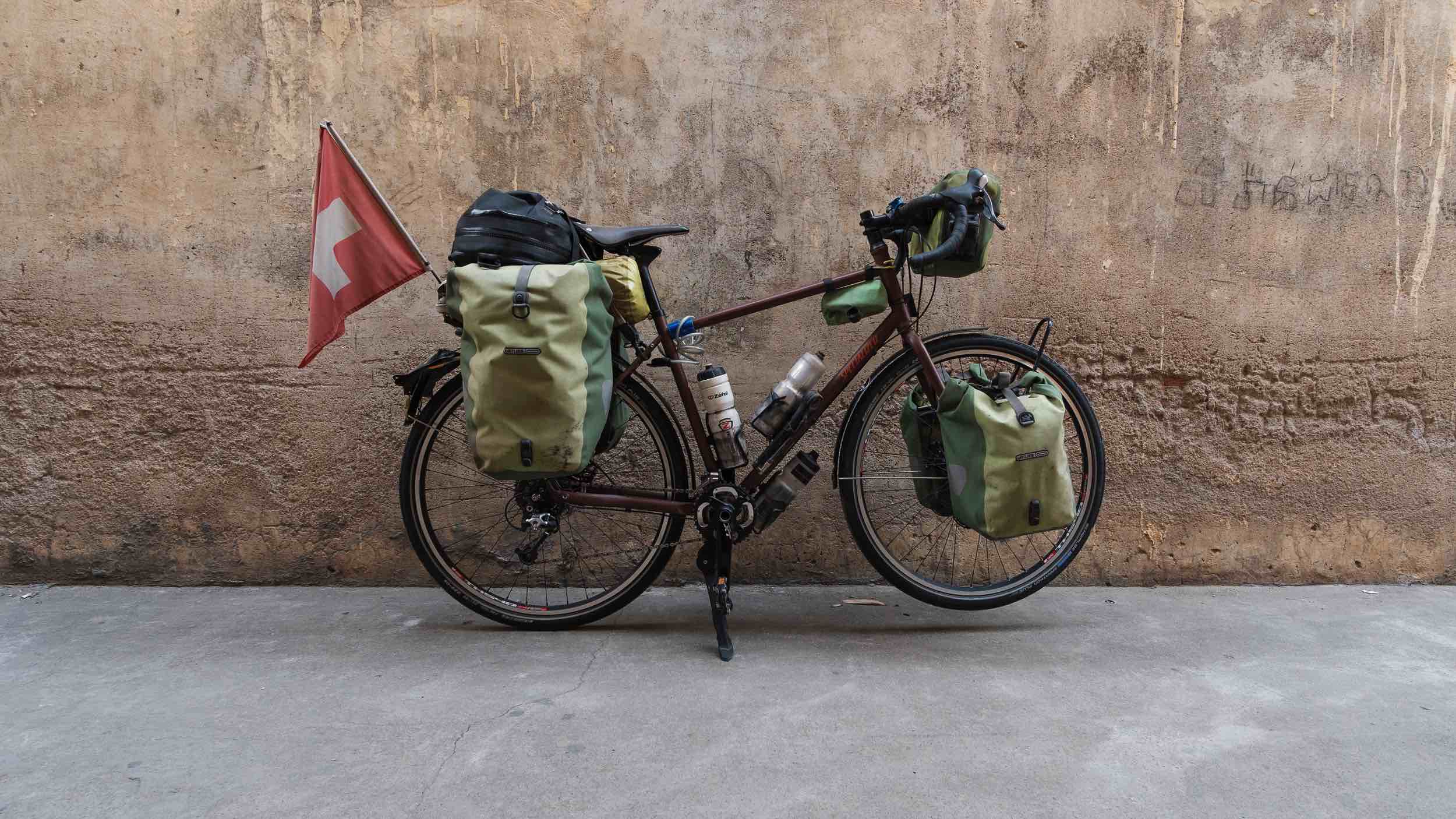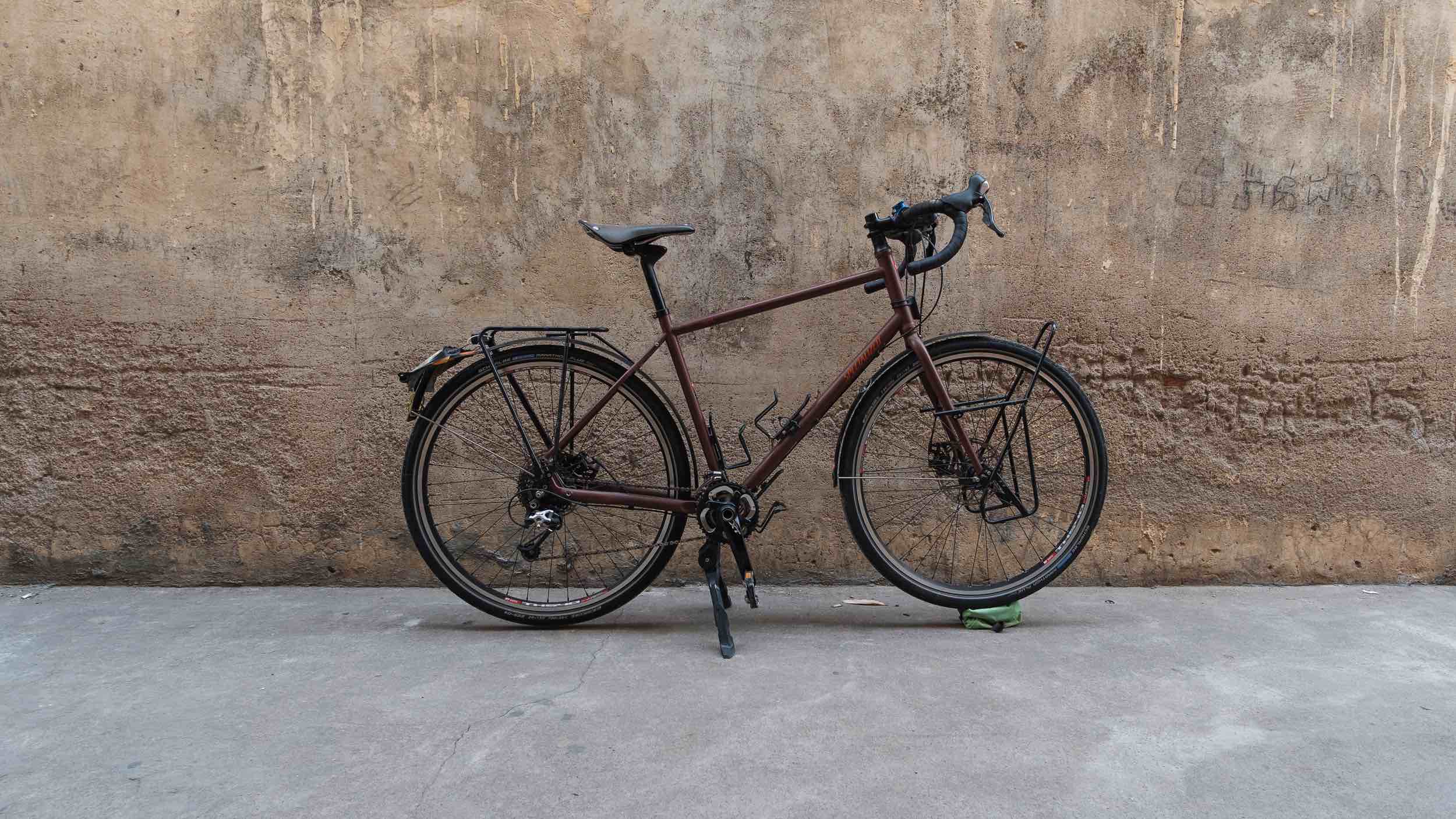 The pebbles pass before my wheels at any speed, whilst the tranquility and silence follow me relentlessly for more than 10,000 kilometers now.
The little queen who takes me to the end of the world keeps its promises. Solid, durable, silent, climber, fast, never has damaged his reputation of excellent travel companion.
Always at the forefront in the collar mounted, however it is quickly catching up with colleagues three-wheeled downhill.
Obviously, all is not rosy, and we sometimes get angry when it hits me a little hard on the buttocks. Fortunately, I'm not vindictive soul, freedom afforded me two wheels in such a journey worth some pain later !
Not the slightest mechanical problem from the beginning, this Specialized AWOL was mounted to withstand the terrible Pamir Mountains, and more ! Let's see where this warrior is ready to take me ...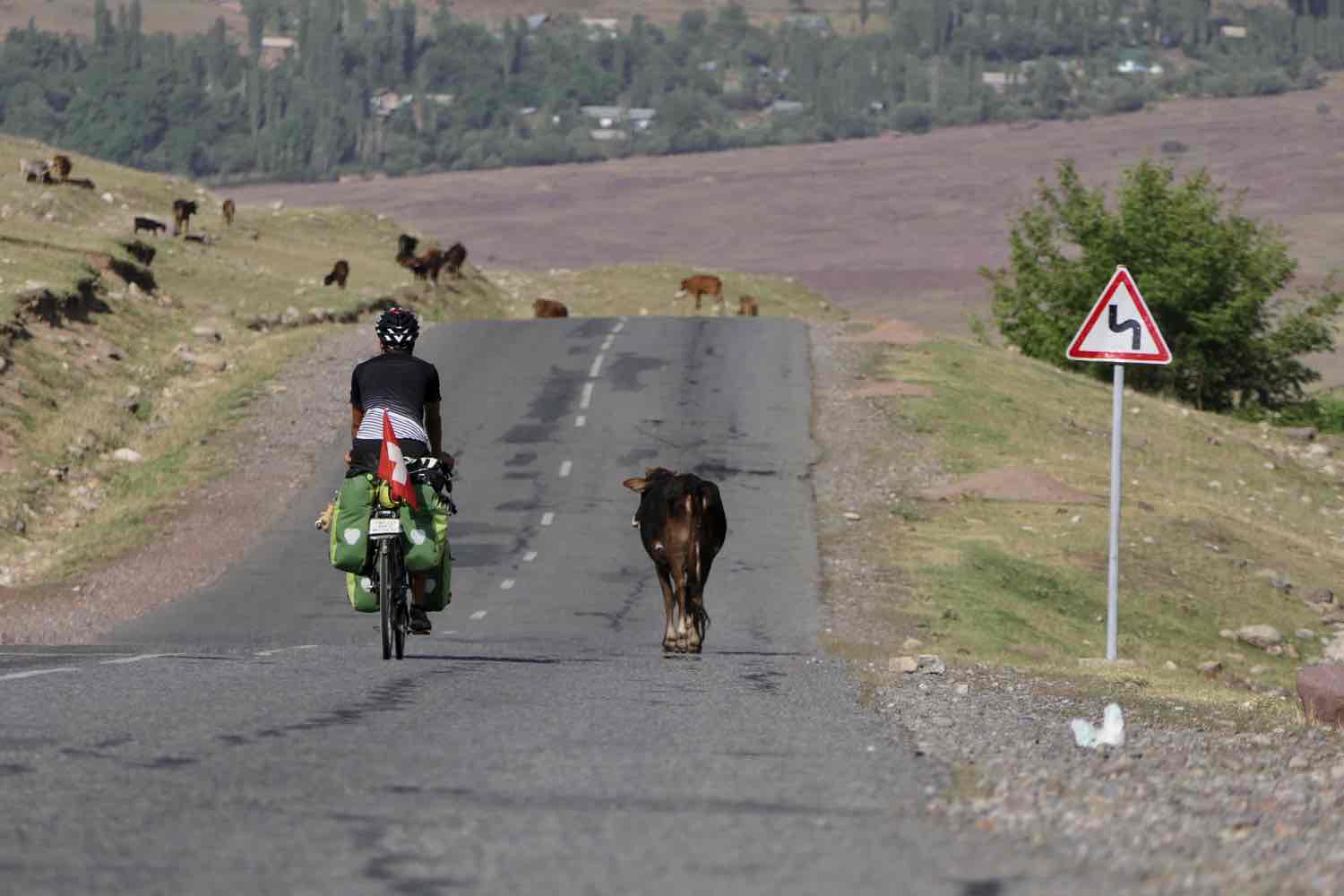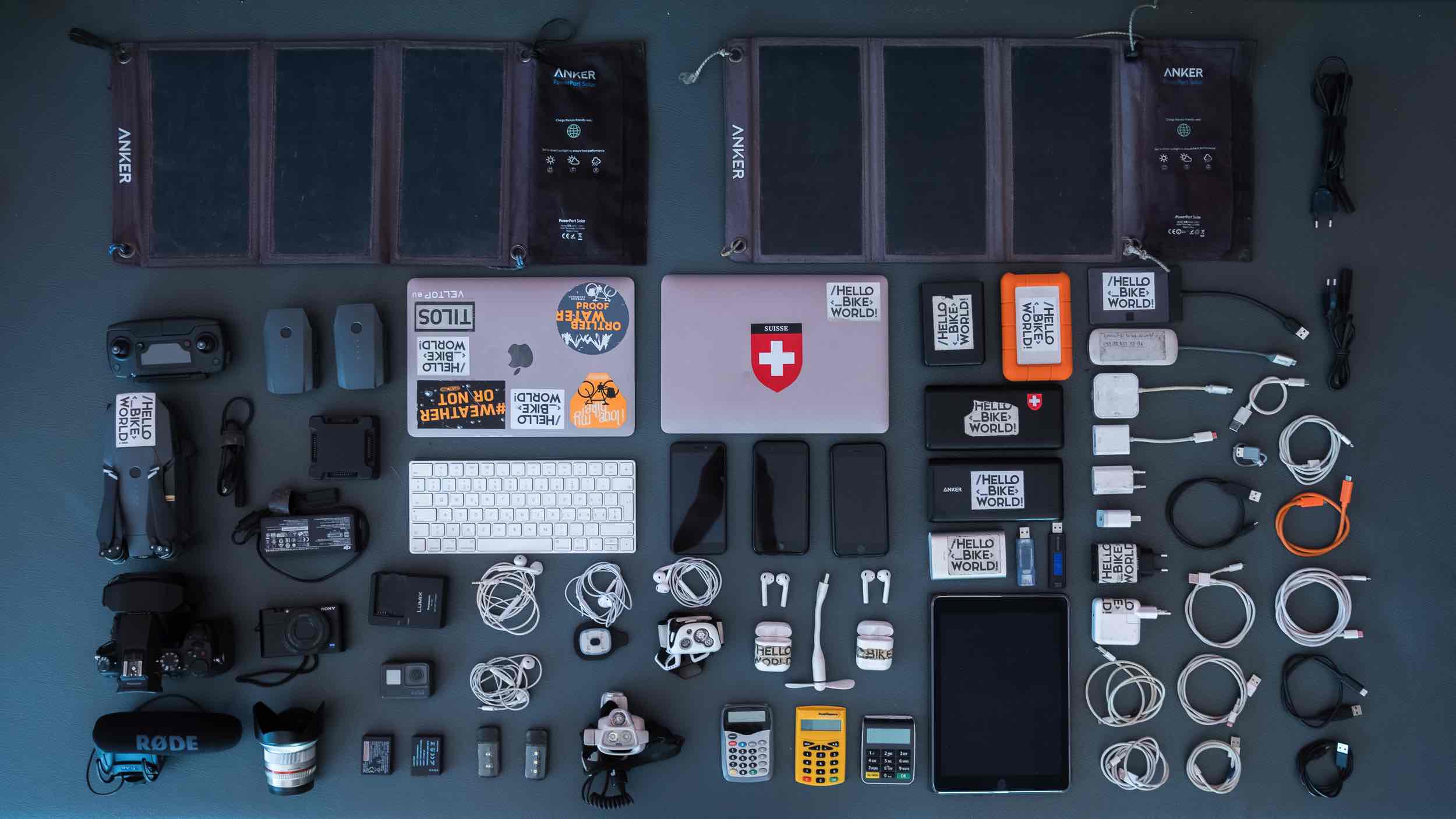 drone takeoff. The heart beats a little faster than usual. Normally, everything should go well again, as is the case since the beginning of the journey.
A drone ... This is the traveler 2.0. We accept, we are geeks who love nature as much as tech.
Traveling by bicycle, it is yet to show minimalism as to the number of objects that we take with itself. It must necessarily happen to make concessions and often, it is after several months of travel we learn to gradually release excessive clothing or objects that helpful thought.
Where we came to 2 shorts and 2 socks, we always have with us 2 computers, 3 cameras / video, an infinite number of various cables and chargers to meet all situations. We make movies and photos. Yes, it is our vice but also our strength, because it allows us to produce photos and videos we are proud.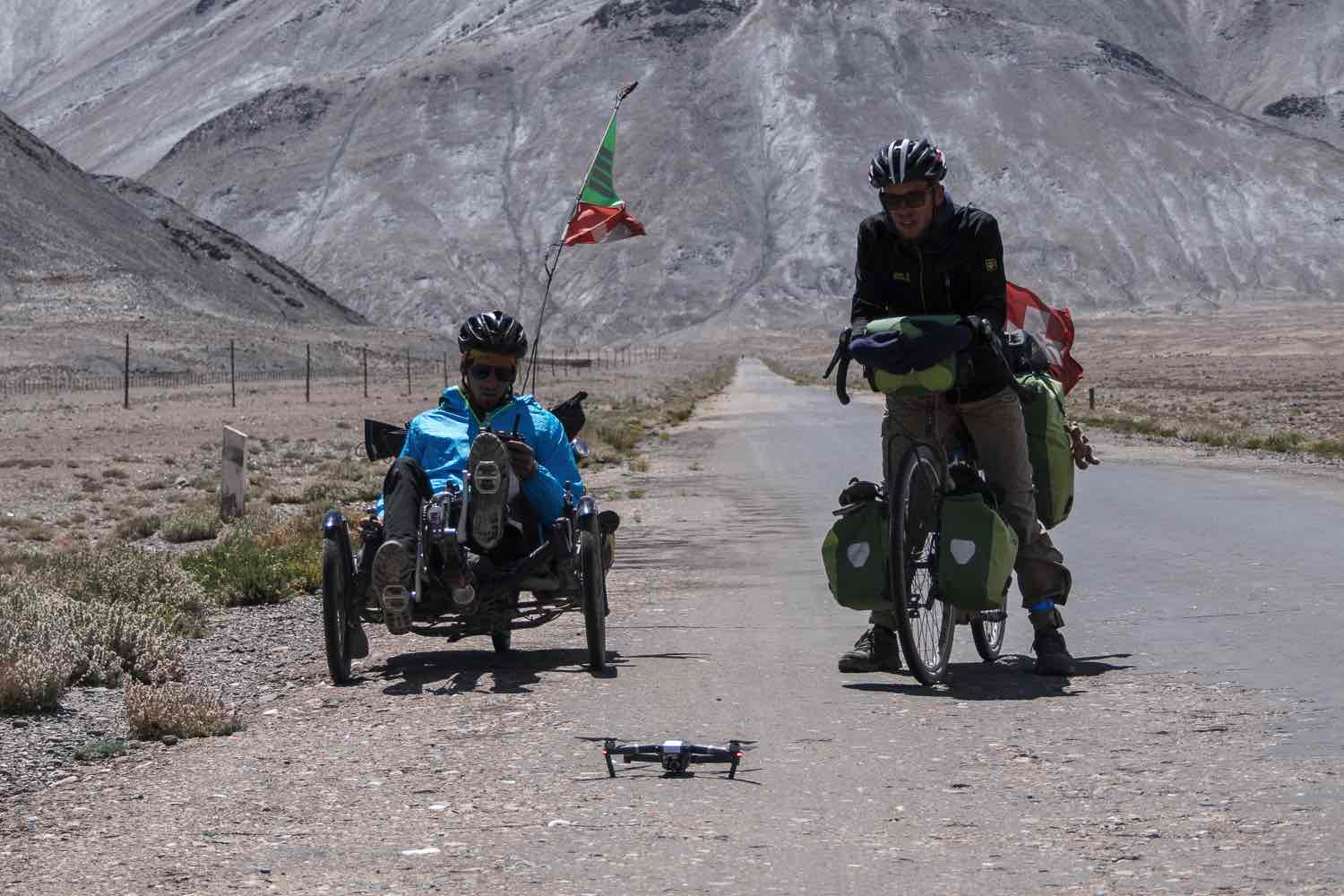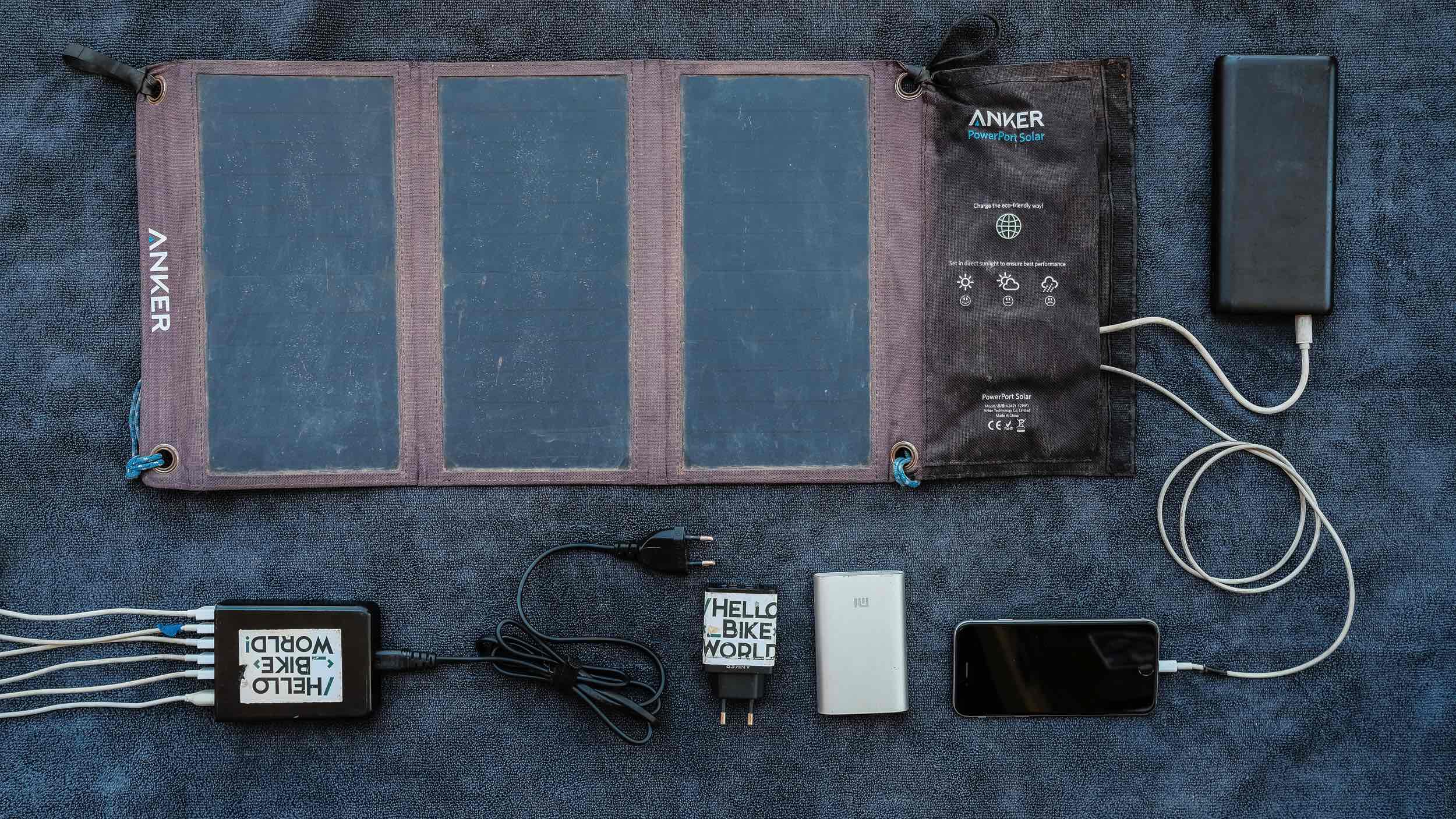 No outlet, no problem !
This morning, the low sun is already enough to draw its power, to warm ourselves already as the thermometer dropped below 0ºC fateful but also use our photovoltaic solar panels to charge our phones and external batteries. Attached to the back of our Veltop on trikes, they produce even while driving !
Here, we will also charge the Bluetooth speaker to listen latest album Danger (which is fine).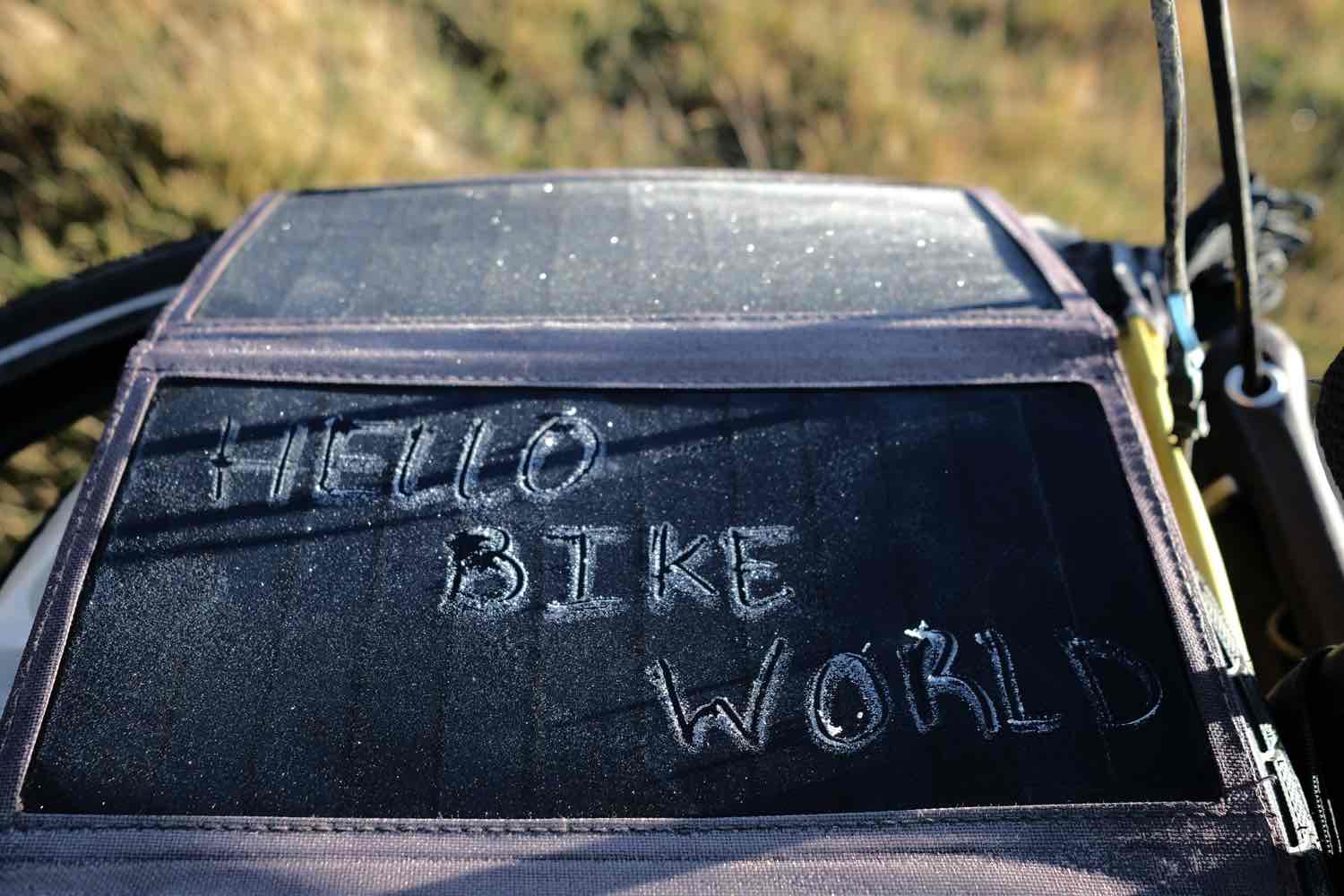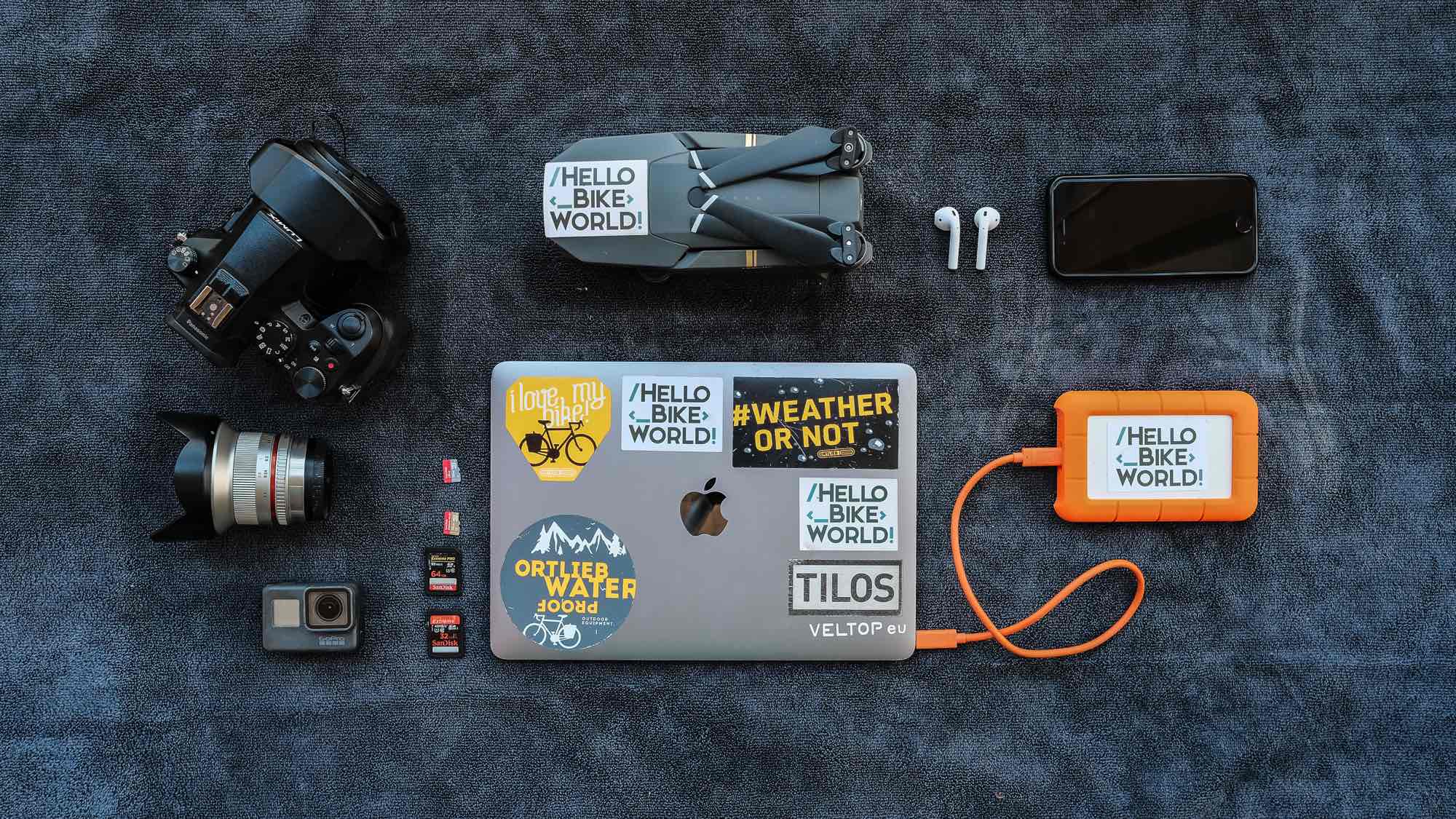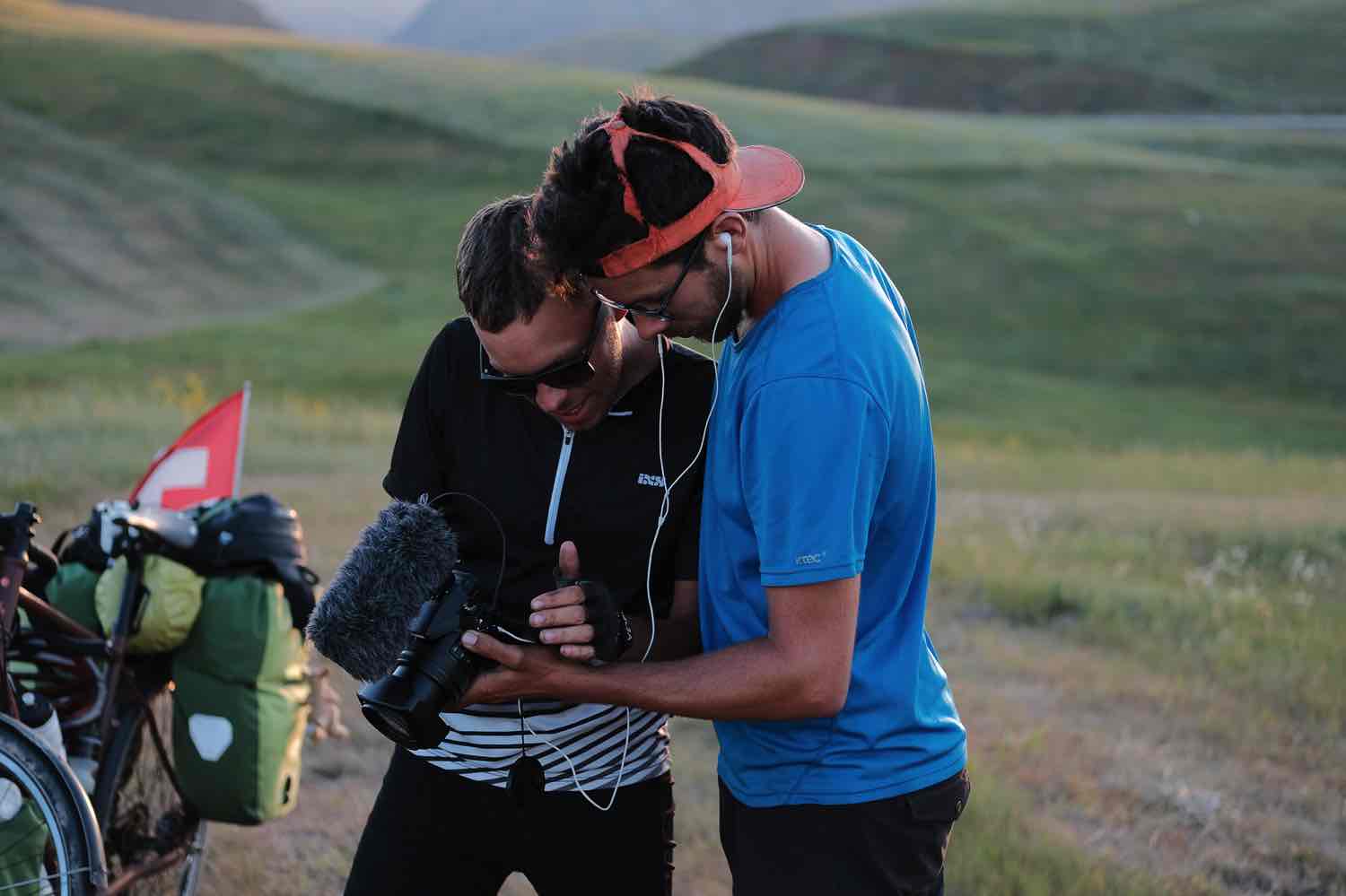 Make a video, it's simple. A simple phone only. Making a good video, it's another pair of sleeves.
In our films, we are both actors and directors. The film should be fun. It is mostly for film and edit videos is a passion. But keep in mind that to produce a video episode, this corresponds to almost 2 day assembly !
And film while actor, it's a little killing now. When exiting the camera, it is very difficult to maintain the authenticity and direct action. One of us becomes cameraman and the other two players get a little ...
We say that even when it's easier to have a film crew. One could devote himself entirely to cycling and adventure ! Or, did shoot and produce videos, it is not that also the adventure ?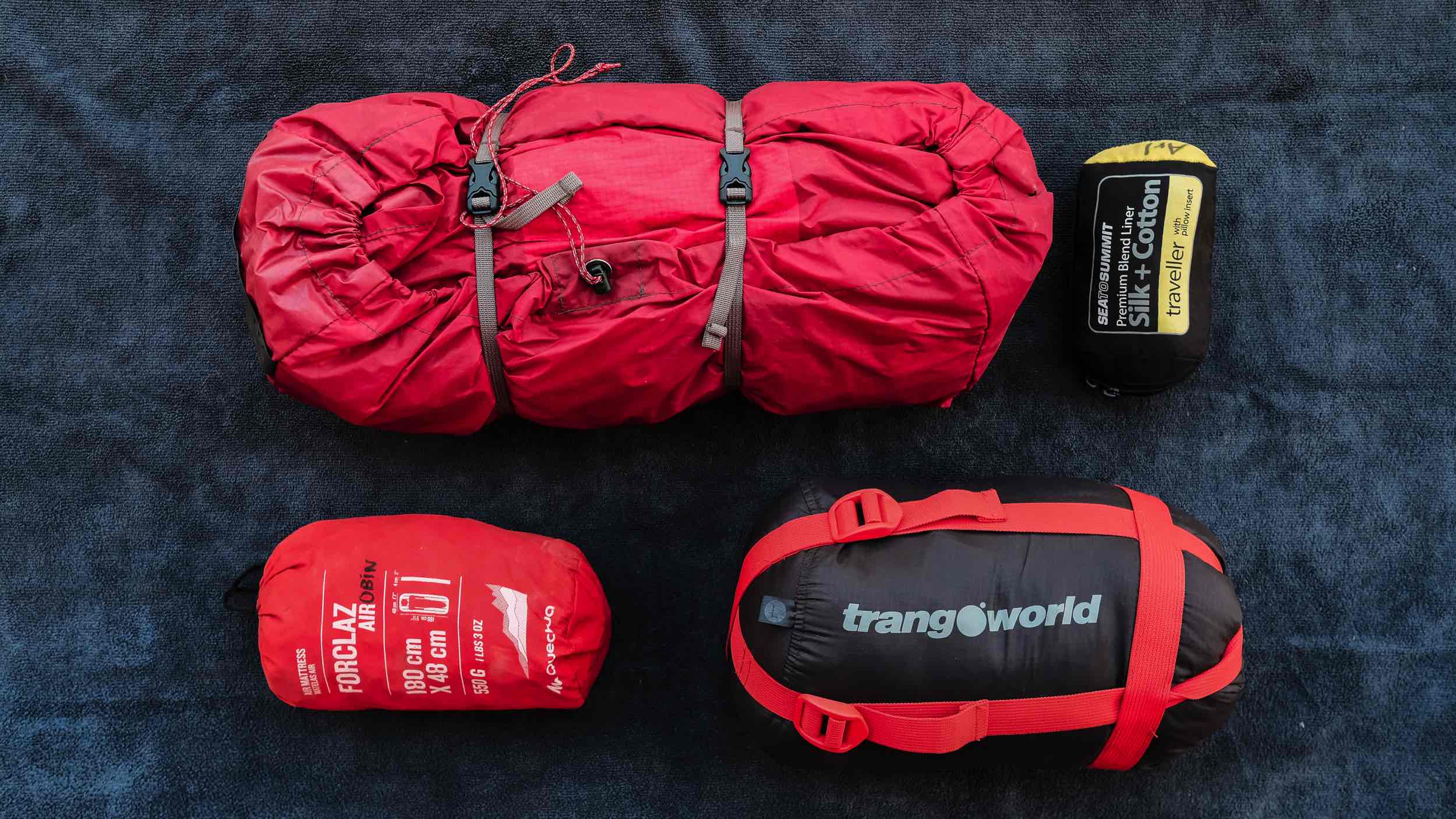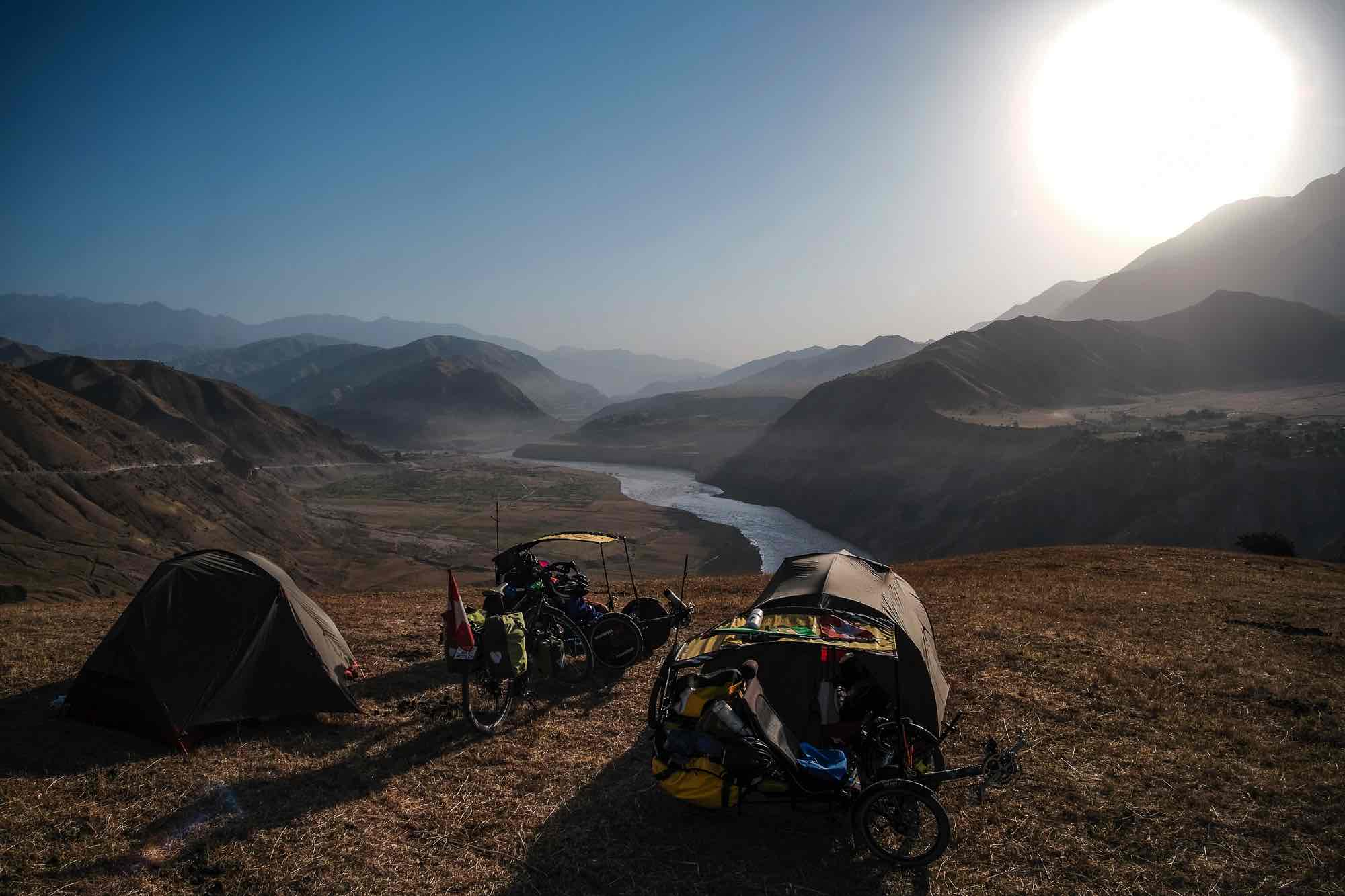 The evening came, it's time to find a place to sleep. A look right, nothing. to the left, a small road diverges from the main path . We try our luck. Much good has taken us, This path leads us to a freshly cut field that gives us a breathtaking view of the river in the distance.
No time to wonder about the nature yet, it must set up camp. But what is the camp ?
The camp, is first tent, row in the bag, it does not take much space. There is even the pickets, the amounts, canvas and sub-tries in the bag.
whew, the tent is installed. Now you have to install the bed. The inflatable mattress is very small when folded in his bag and yet it is ideal to forget the few stones on which we will lie down tonight.
We Unroll the sleeping bag. But not sure they are needed tonight so it's hot ! Fortunately we also have this silk broadcloth. It allows us not to dirty sleeping bag.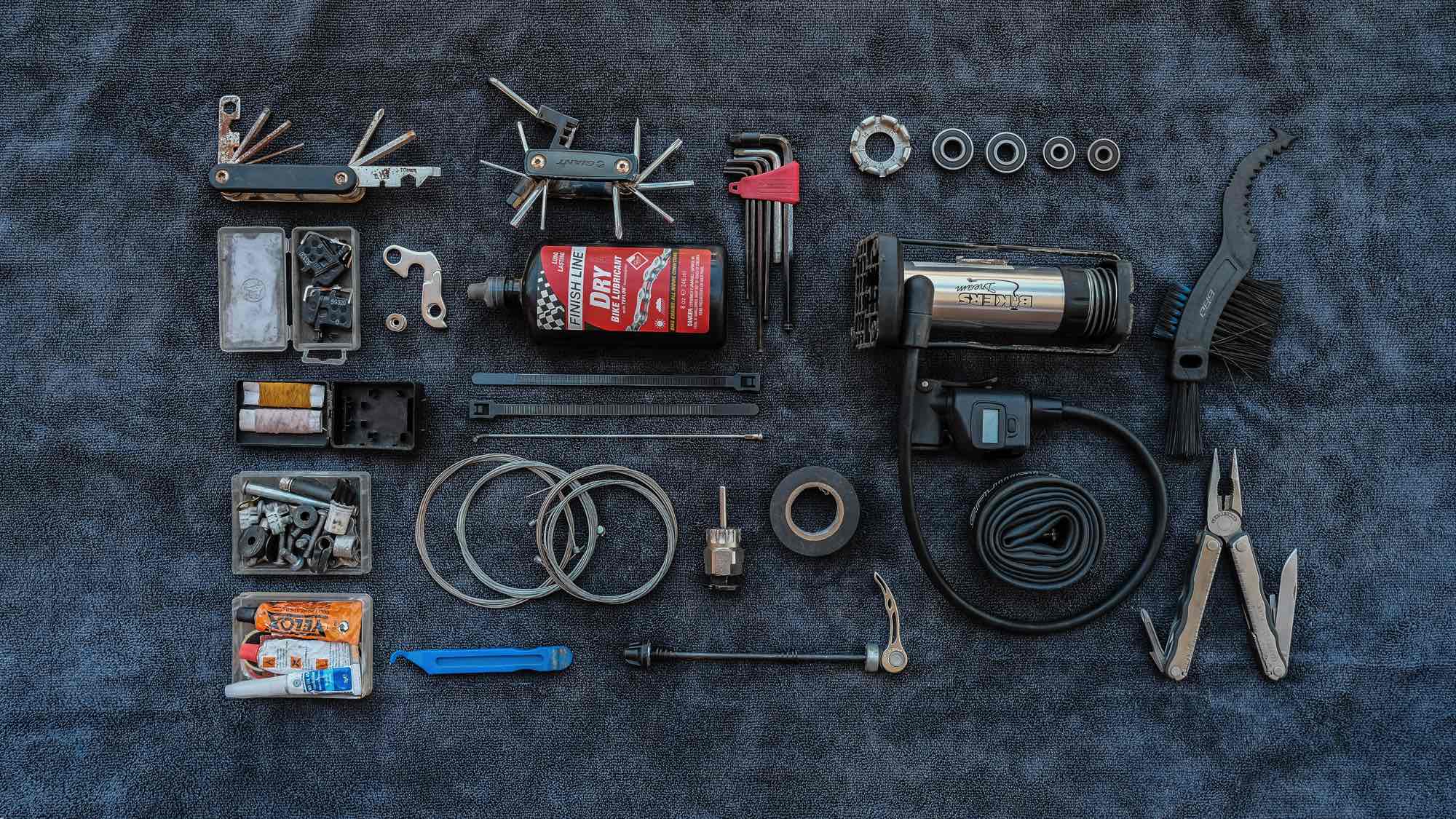 Pssssch... This noise characteristic of a tire deflates. We are on this rocky road for the past day and a half, it had to happen ! Good, we quietly put in the shade leaves to spend some time, as well do it with a bit of freshness.
Arlen wonders if this is not also the time to swap the tires from the rear tire which is at a critical stage of wear with the front tires are less worn. This seems to be a good emergency solution because it still has to hold several hundred kilometers.
Do not get excited. One can take the opportunity to stretch, eating nuts we bought that morning. Its good, it is already repaired ? Ok, Here we go again !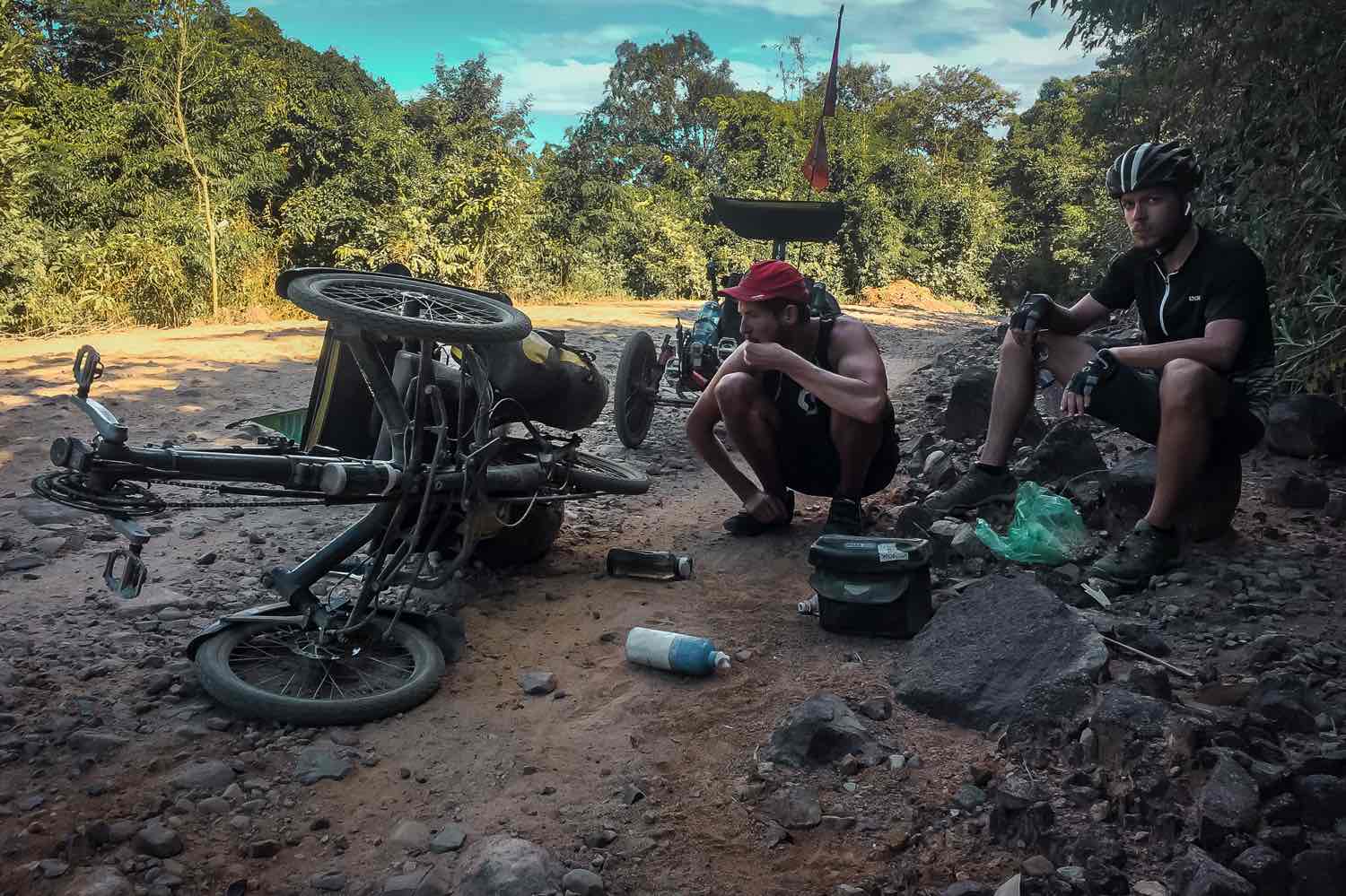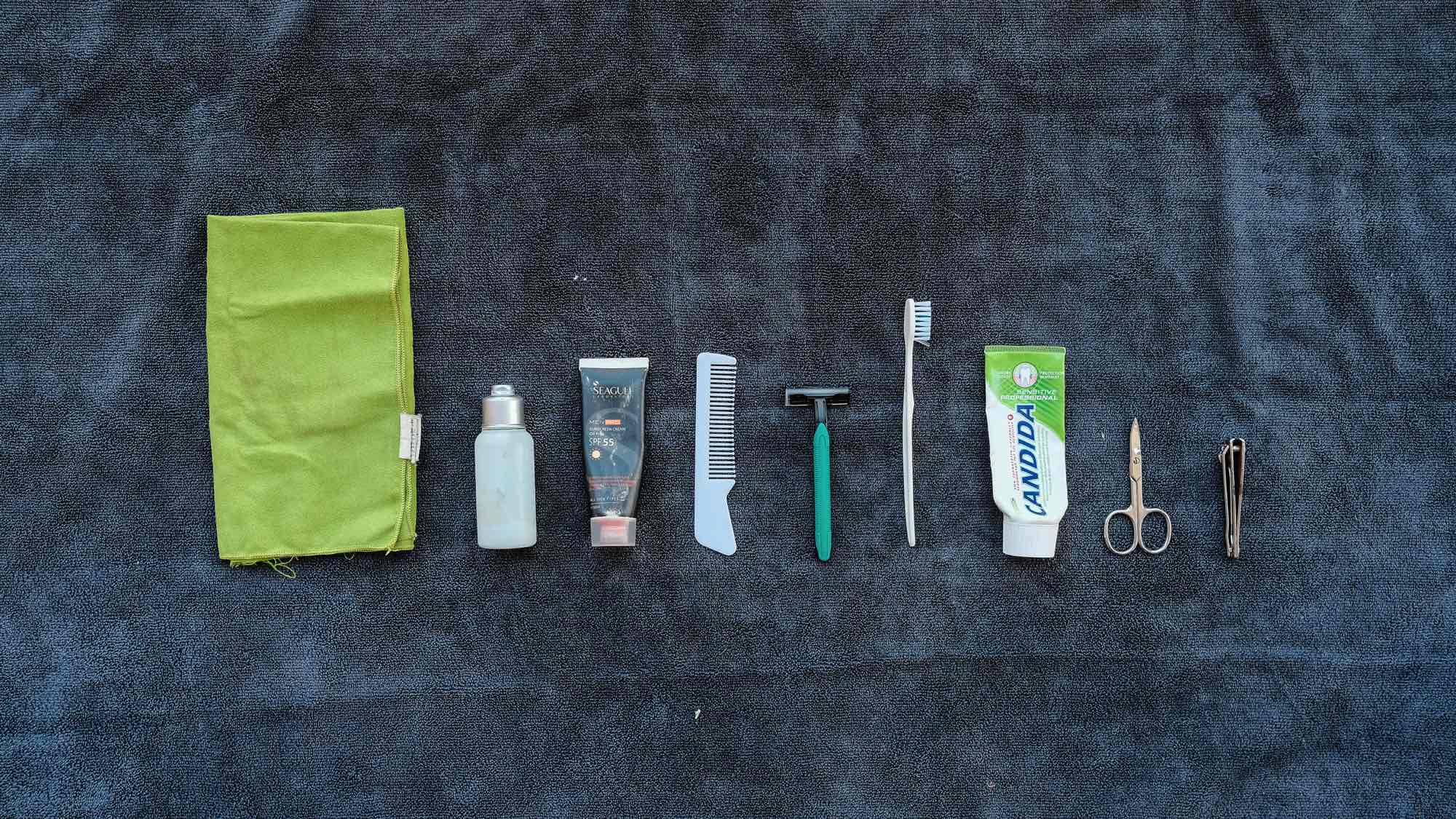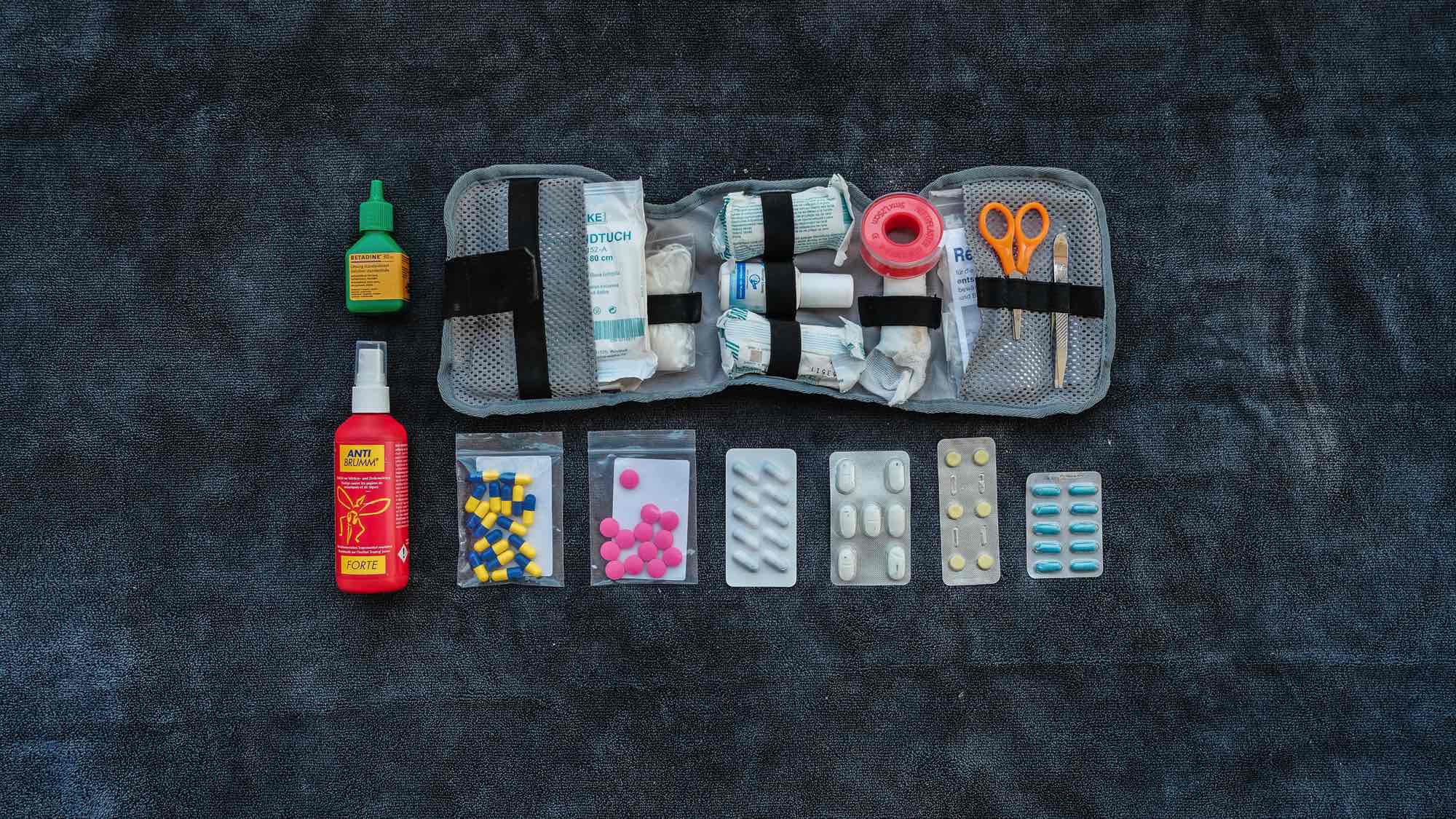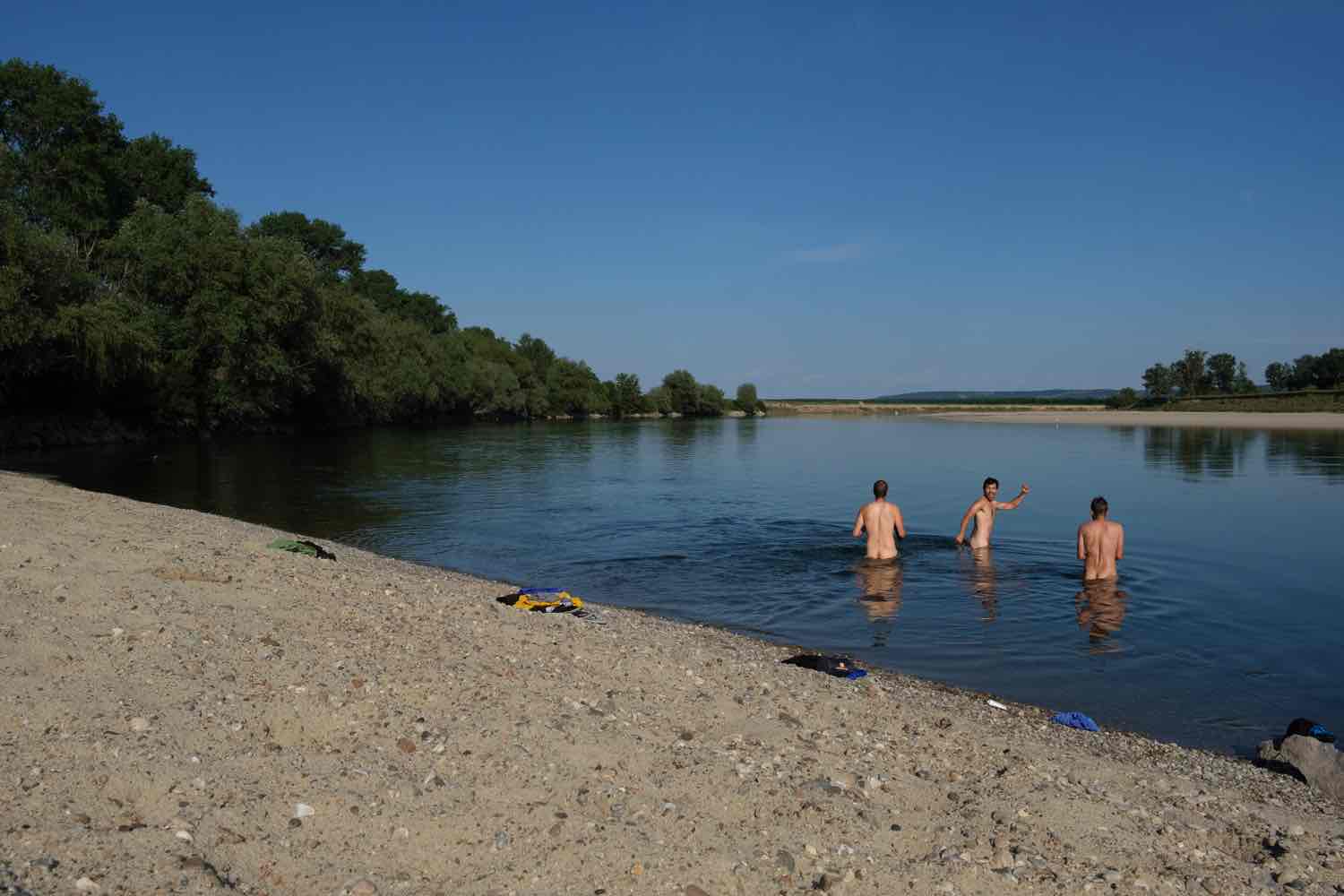 Where did the day creams, by night, deodorant, shampoos and shower gels ? This is limit if no cutting of the toothbrush in half to further save weight and space.
As a matter of fact, what's the use of being beautiful and feel good when anyway, we will find ourselves in the exhaust pipes of cars and sticky dust the half hour after ?
By cons is always a pleasure to bathe and wash in rivers, naked if possible !
Good, to fully understand the scene, you have to watch this video.
The evening came, as is the tradition, it's time to find the most beautiful camps.
We follow our ancestors, the castles are built high in the hills, so will our tents !
It is therefore the ultimate climb Mt., off the beaten track. No question as to push the trike, we must face this side climb.
But quickly, I feel my trike waver , the angle is too large and it is too late. A second later, I end the 3 irons in the air.
It's okay ? Arlen and Firmin ask me laughing the absurdity of the situation more than really worrying.
I raise my thumb in response to signs. Anyway, for any injury, we are equipped with our aid kit.
Okay guys, On the other hand, you can help me to get me out ?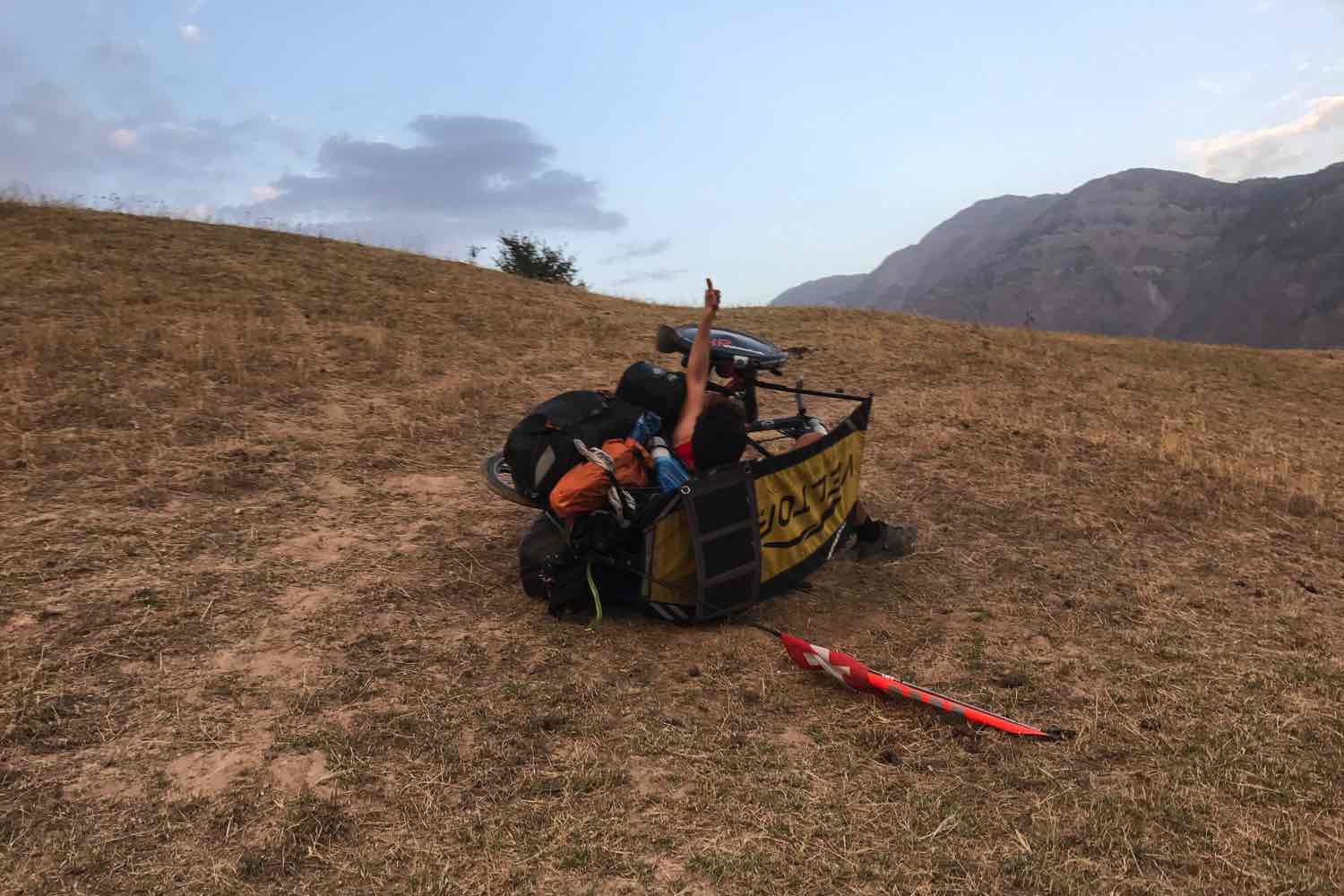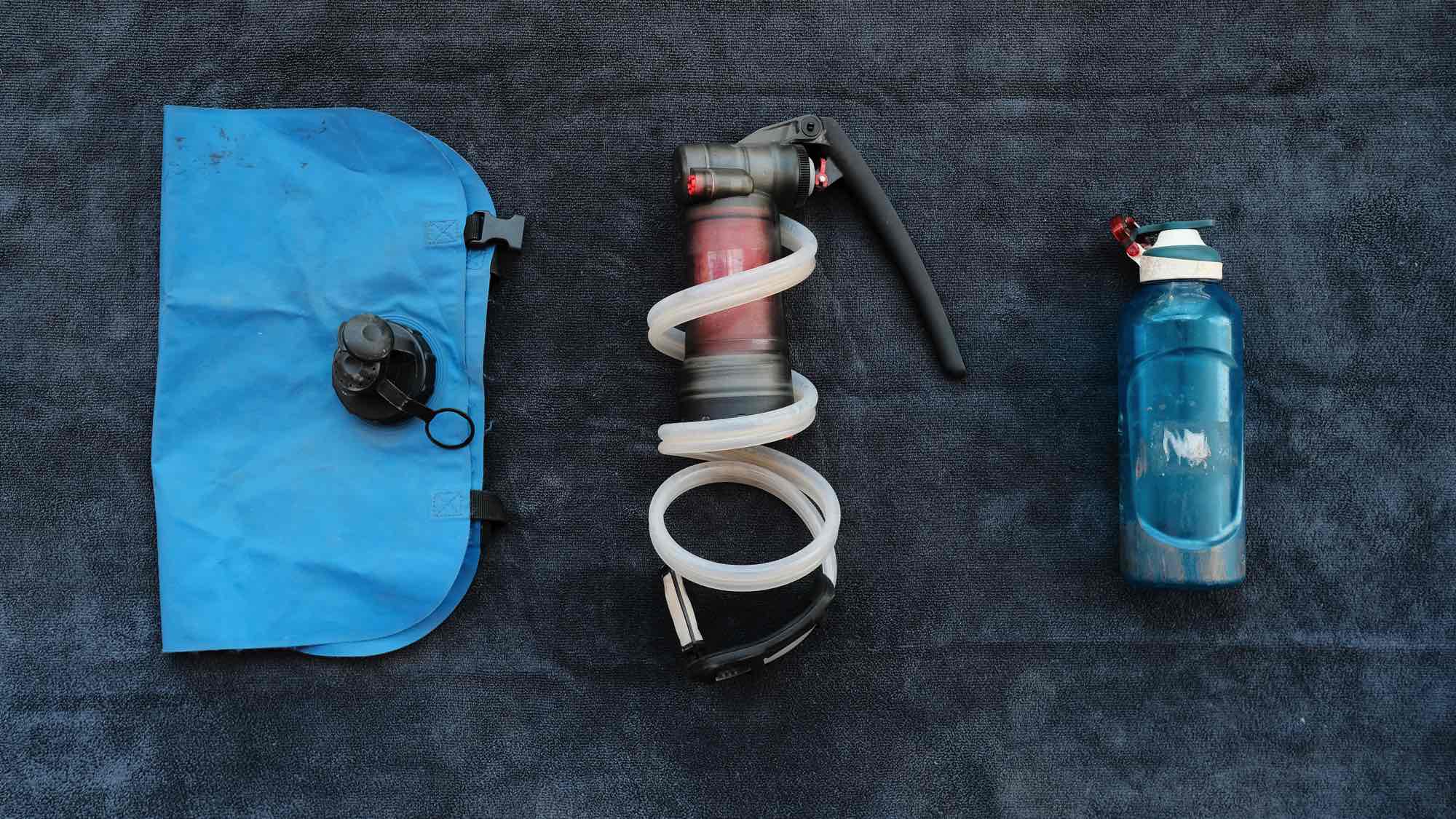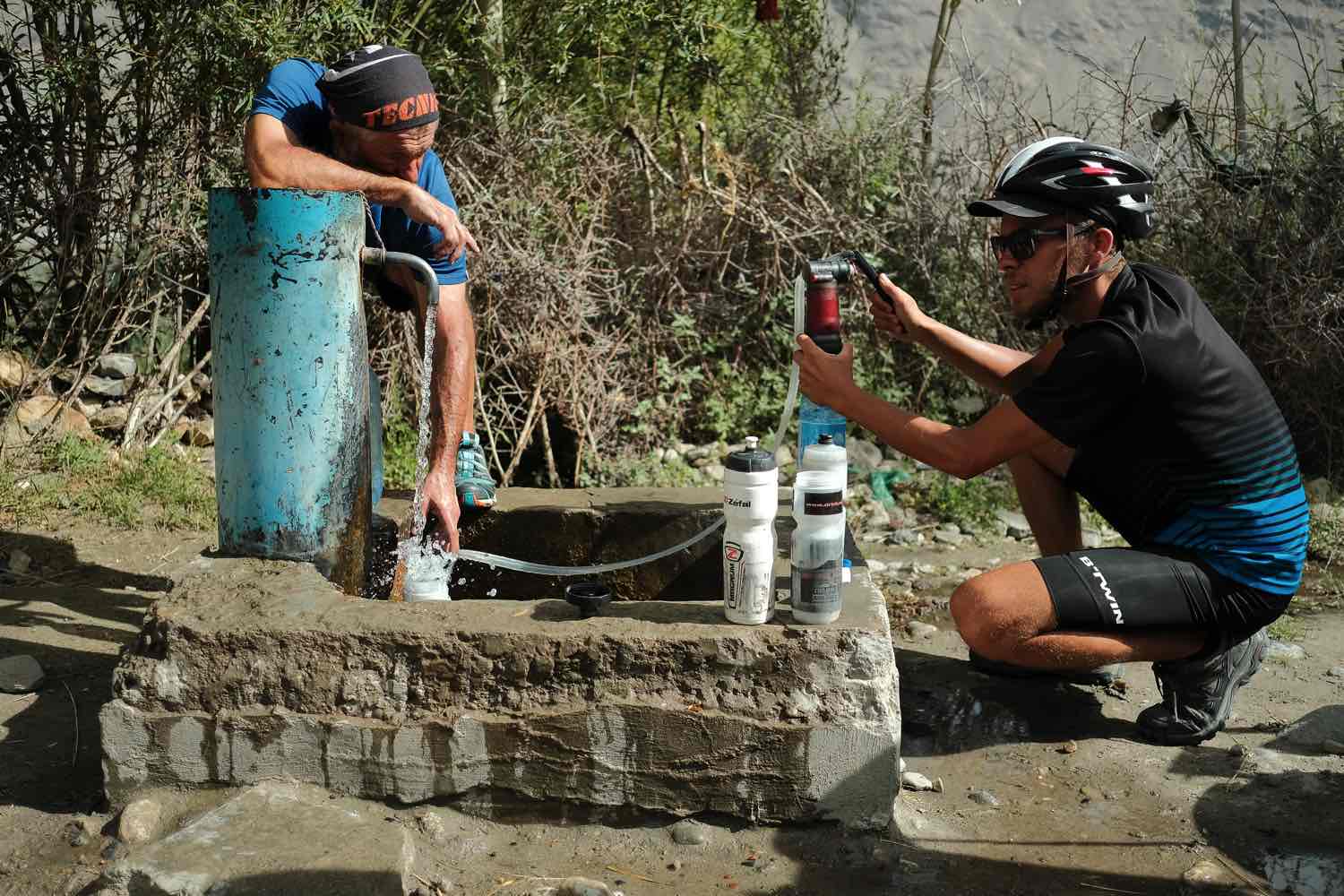 For tonight, we will take all the water through the fountain. filtered to be sure not to fall ill again ...
In the Pamir, Tajikistan under the blazing sun, is Boit 3 4L of water per person. Besides water to cook pasta or instant noodles found in abundance in the container-shops scattered on the road.
Obviously, very difficult to find a drinking water network in the villages, even less in the mountainous desert that stretches to the horizon. The only solution, pump !
With our amazing water filter, we do not have to pull a water tank with us, or chemical pellets. More, it's arms, eh Firmin !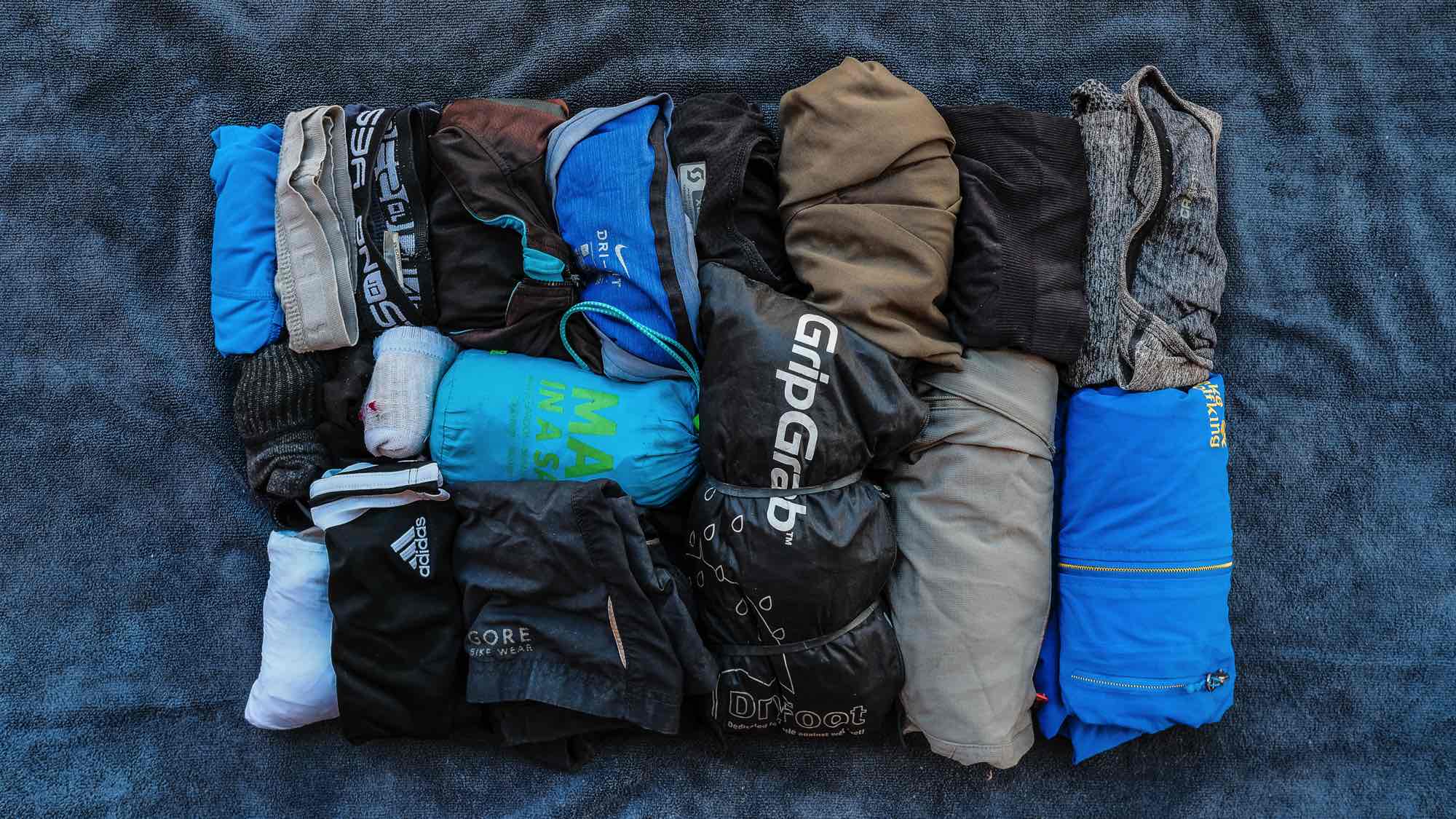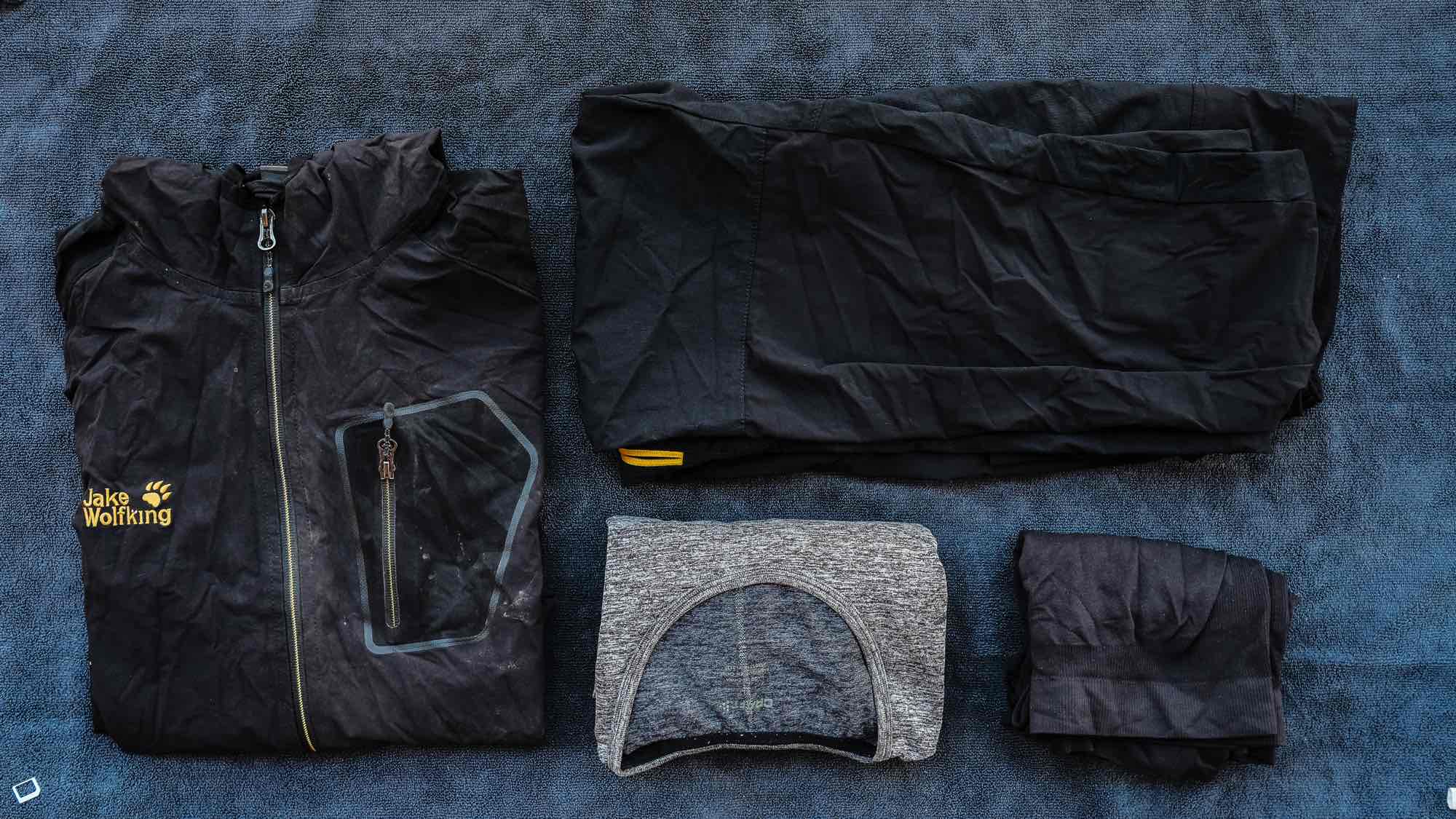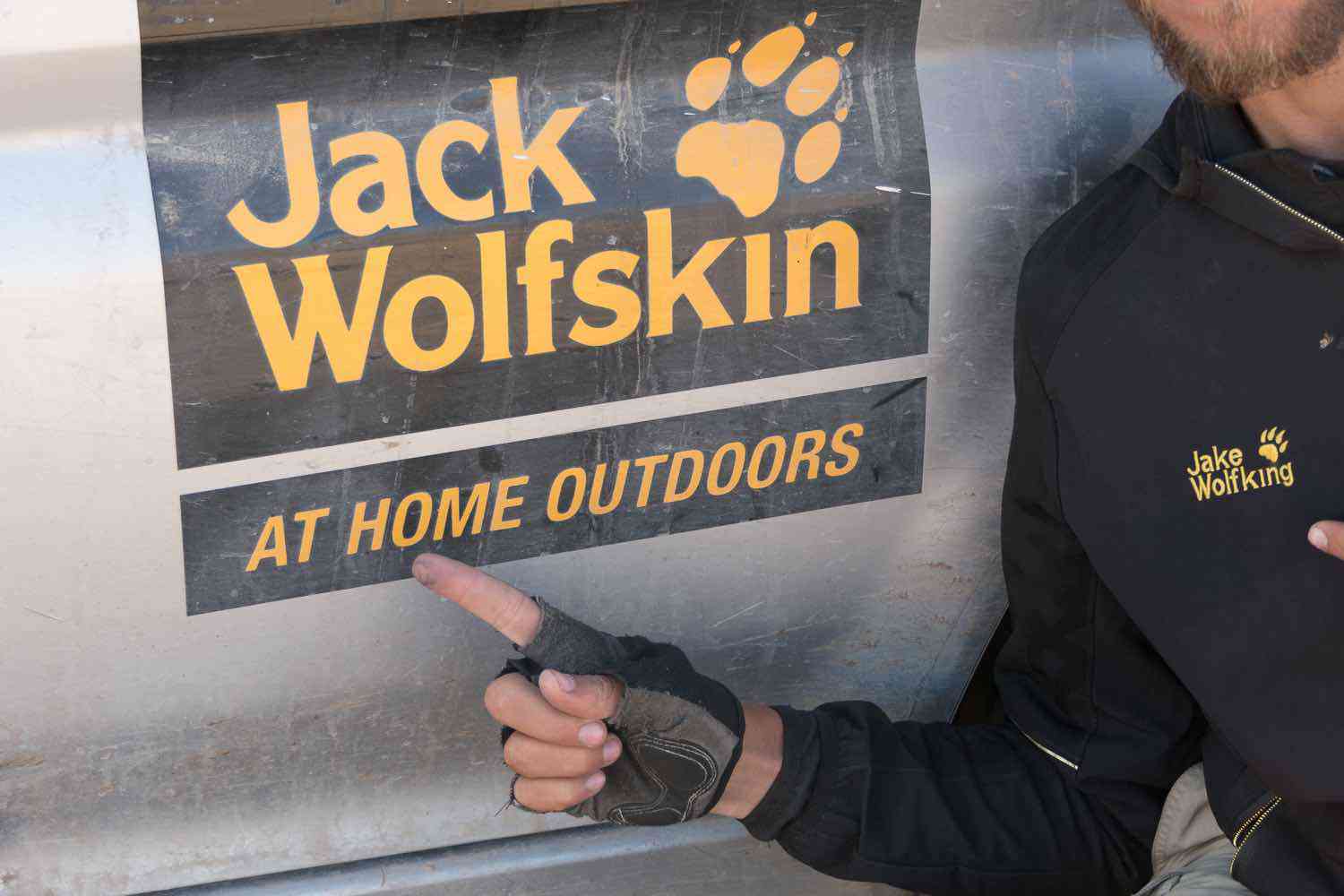 After many consecutive shots changes, we ended up in Tehran bound for Pamir without warm clothes to face the passes over 4000 m where it can snow even in summer.
Just imagine trying winter sleeping bags in Tehran shops all under a temperature of nearly 40ºC ...
The funny thing, is that traders often indicate the copies and fakes that are much cheaper (although often of lower quality).
We all 3 bought a jacket "Jake Wolfking", Jake is the king of wolves instead of "Jack Wolfskin" or Jack Wolf Skin. Excellent !
Everything I need in the day is in my bag. My sunglasses and sunscreen for sunny days. The purse for daily expenses and passport for hotels and borders. business cards for all curious that crosses the road.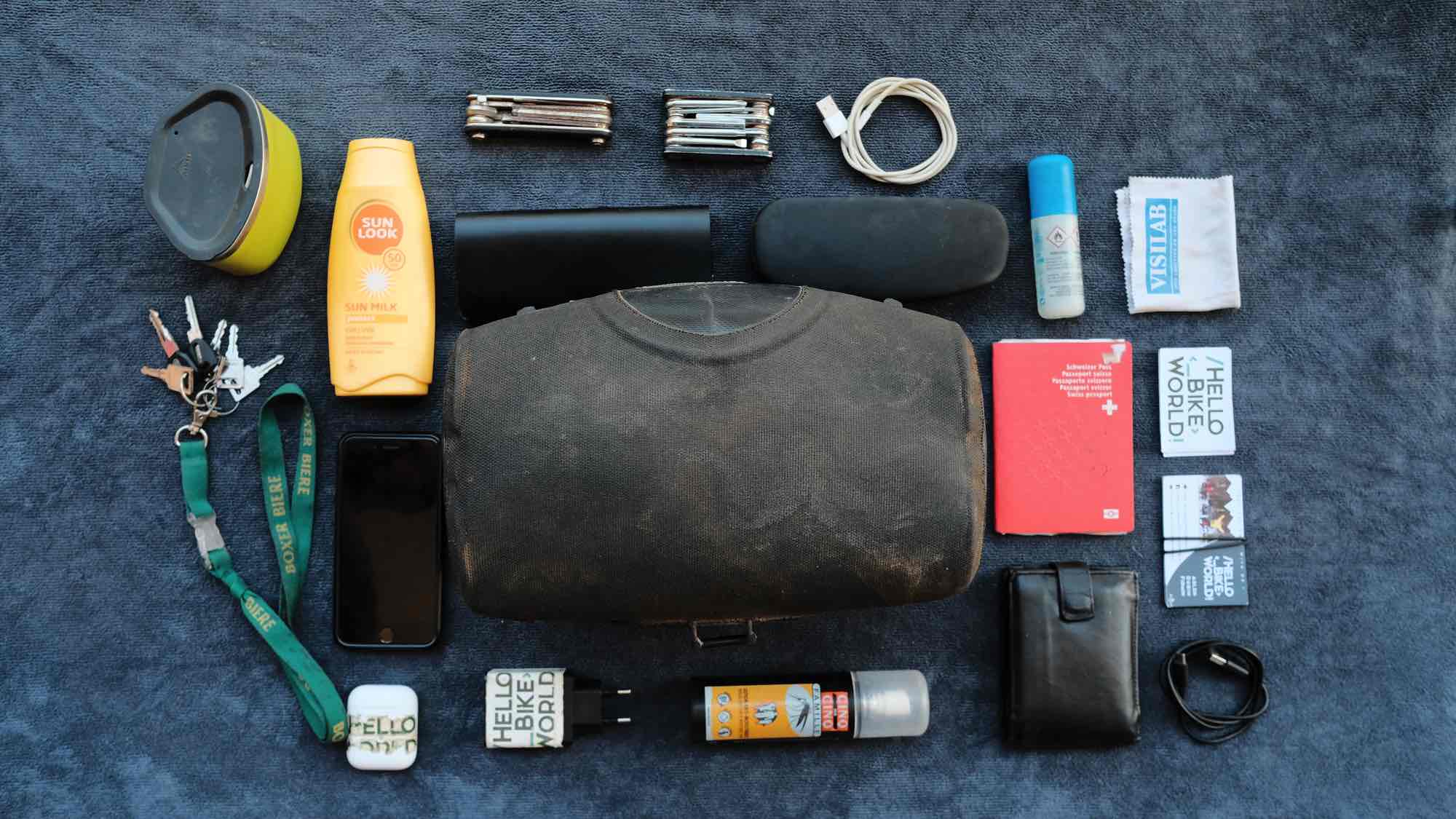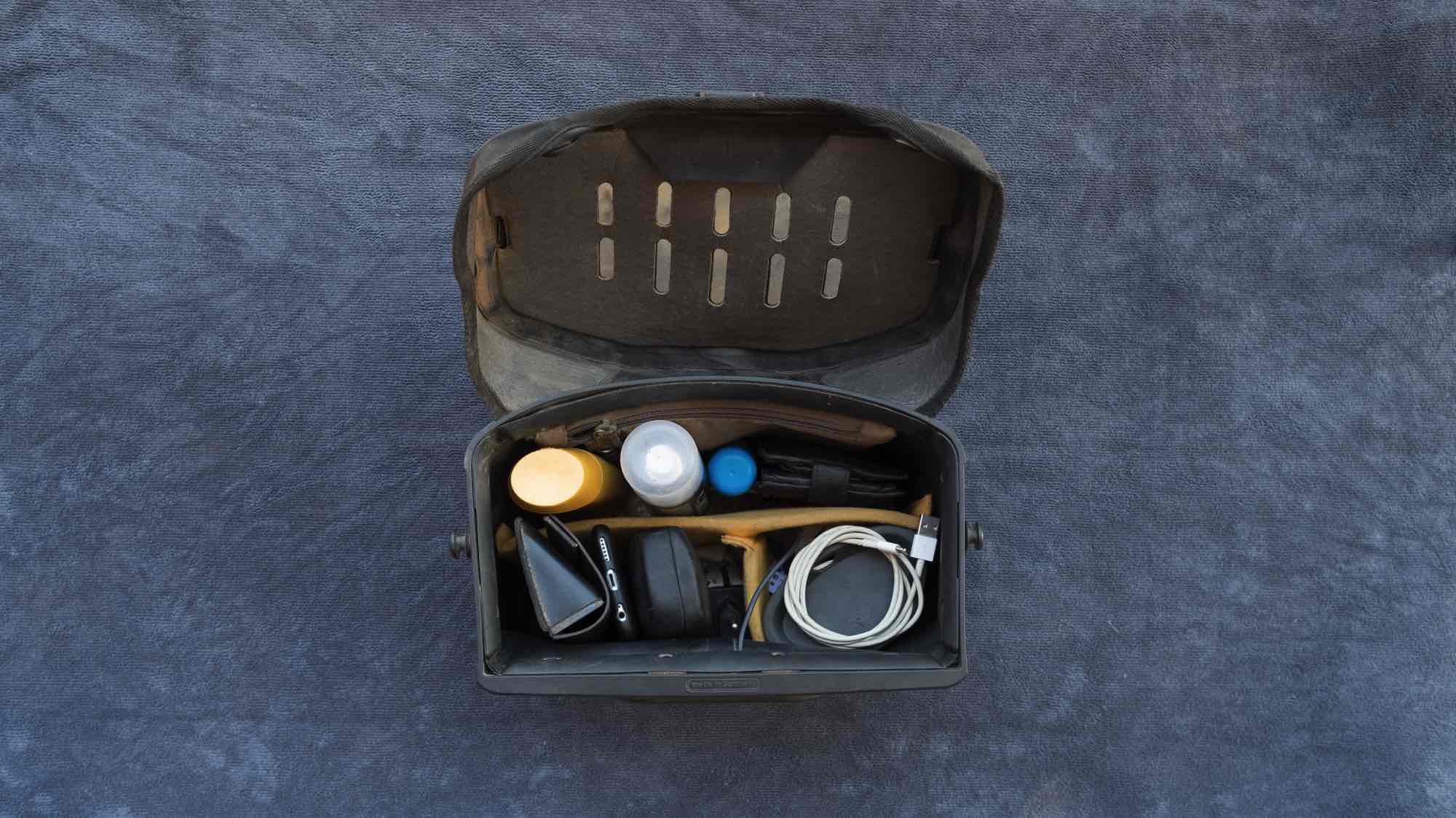 It looks to be a little anarchy in there, but there is much everything I need every day. Not even need to stop, I only need to open the rolling satchel to take a picture, put my sunglasses, or leave my headphones. I will never separate myself from this bag, neither day, nor night !